Genocide, Sleaze, and Other Maladies: The Signs of Violence and Trauma in the Narratives of Gabriela Alemán
Dr. Gabriela Alemán
---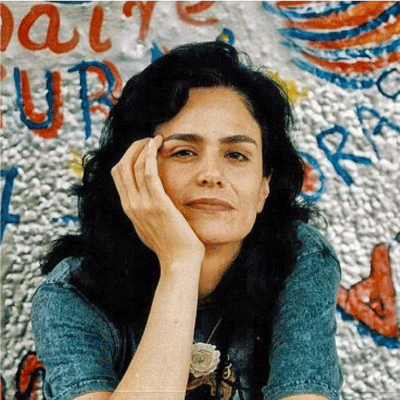 Thursday, September 13, 2018 | 12:30 pm - 02:00 pm
Ortega Hall
Reading Room
About:
Join the UNM Department of Spanish and Portuguese and partners for a presentation in Spanish with Ecuadorian writer Dr. Gabriela Alemán.
In her talk, Alemán will discuss how political, historical, and cultural contexts are interwoven into fictional narratives to create stories that speak to power and enable social transformation.  Alemán is a writer of short stories, novels, plays, screenplays, and essays with over a dozen books under her authorship. Among her works are the novels Humo (Random House, 2017), Poso Wells (English translation by City Lights Publishers 2018), and Body Time (Planeta, 2003); the collections of short stories La muerte silva en blues (Random House, 2014), Álbum de familia (Cadáver Exquisito, 2012), Álbum de cromos (La Propia Cartonera, 2010), La cicatriz (Sarita Cartonera/Matapalo Cartonera, 2009), Fuga permanente (Eskeletra, 2002), and Zoom (Eskeletra, 1997).
About her novel in English translation, Poso Wells, critics have noted:
--    "Celebrated Ecuadorian author Gabriela Alemán's first work to appear in English: a noir, feminist eco-thriller in which venally corrupt politicians and greedy land speculators finally get their just comeuppance! (City Lights Booksellers and Publishers at http://www.citylights.com/book/?GCOI=87286100812940)
--  "Thriller and farce, Poso Wells is a magical realist sci-fi, a fierce and biting social allegory by turns hilarious and tragic, cynical and hopeful . . . this is a twenty-first-century cautionary tale of the war between humanity and avarice . . ." (Maria Agui Carter, director of Culture Shock and Rebel). 
--    "Poso Wells explores the dichotomy between the new and old worlds of Ecuador through an exciting noir about missing women, corrupt politicians, and a journalist's attempt to unravel the secrets of the infinitely labyrinthine cityscape of Poso Wells. This is an exciting debut translation of a celebrated Ecuadorian author, and one that should lead to more translations of her work" (Ely Watson, A Room of One's Own Bookstore).
***
Evening Event for Community
Dr. Alemán will also be at Bookworks (4022 Rio Grande Blvd NW) at 6:00 pm for a conversation with UNM professor and writer Santiago Vaquera-Vasquez. For complete details, see the Bookworks website.
Notes:
This event is free and open to the public.
Sponsors:
Department of Spanish and Portuguese, Division of Student Affairs, Latin American and Iberian Institute