Podcast Guides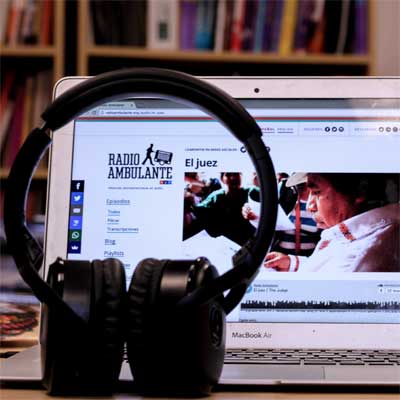 The LAII's podcast guides are lesson plans, activities and assignments that accompany a specific episode of a podcast pertaining to Latin America. The aim of these lessons is to expose students to Spanish-speaking podcasts and stories from Latin America, while providing teachers with the tools necessary to assess, discuss, and develop further assignments related to the episode's content.
These resources are designed for use in advanced Spanish language classrooms. Many feature podcasts from Radio Ambulante, a Spanish-language podcast distributed by NPR that tells Latin American stories from anywhere Spanish is spoken, including the United States. In their own words, Radio Ambulante seeks "to bring the aesthetic of high-quality longform journalism to radio. We work with a talented community of storytellers and radio producers from different corners of the continent, while taking advantage of technology to produce, distribute and exchange stories. In 2014, Radio Ambulante was awarded the Gabriel García Márquez Prize for Innovation in Journalism, the most prestigious journalism honor in Latin America."
RADIO AMBULANTE: BOOM/COLAPSO
This guide accompanies the Radio Ambulante podcast Boom/Colapso, which tells the story of a family who moved from Colombia to Venezuela during the oil boom. While enjoying a high standard of living in Maracaibo, they witness the collapse of the Venezuelan economy and eventually must return to Colombia.
RADIO AMBULANTE: EL JUEZ
This guide accompanies the Radio Ambulante podcast El Juez, which explores an ancestral Maya judicial system called xic'a'y in Guatemala's Quiché departamento and the ensuing conflicts.
RADIO AMBULANTE: FUE EL ESTADO
This guide accompanies the Radio Ambulante podcast Fue el estado, which discusses narco-corruption in the Mexican government through the experiences of a female journalist.
RADIO AMBULANTE: GUERRA EN EL BIO BIO
This guide accompanies the Radio Ambulante podcast Guerra en el Bio Bio, which investigates the construction of hydroelectric plants in one of Chile's pristine biospheres and the opposition by the country's largest indigenous group, the Mapuche.