3rd Annual Semana Cervantina
---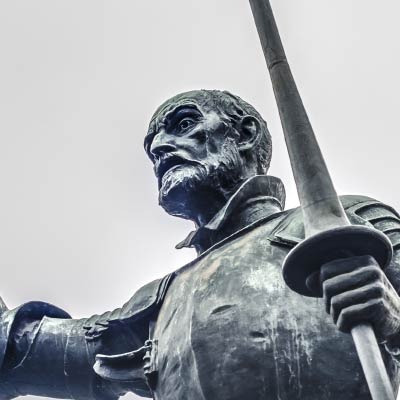 Monday, April 23, 2018 | 08:00 am - 08:00 pm
National Hispanic Cultural Center
About:
To commemorate the "International Day of the Book" and the "Day of the Spanish Language" on April 23rd, Instituto Cervantes Albuquerque organizes a week of events in collaboration with the National Hispanic Cultural Center, the Spanish Resource Center, the Department of Spanish and Portuguese, the UNM Latin American and Iberian Institute, and the Consulate of Mexico.
Events include:
Flamenco Concert: Lorca in the Keys of Hands and Voice
Monday, April 23 | 6:30 - 8:00 pm | NHCC Bank of America Theatre
Presented by Adam Kent (pianist) and Fernando Barros (flamenco singer), this concert is inspired by Federic Garcia Lorca. Lorca collected melodies from the Spanish folkloric repertoire and transcribed them for the piano using two different concepts: (1) adapting the old melodies to some of his poems and (2) singing using an expressive, emotive characteristic inherent to flamenco music. This concert offers the additional innovation of being attuned to the profound influence which Lorca and Spanish music had upon the composer, singer, and songwriter, Leonard Cohen. This metamorphic concert reveal consists not merely in translating Cohen's lyrics into Spanish, but of combining Lorca's poems to Cohen's melodies - like a glove coupled to a hand.
Book Presentation: Madrid, A Culinary History
Wednesday, April 25 | 6:00 - 8:00 pm | NHCC Grand Hall Kitchen
Author Maria Paz Moreno, professor of Spanish in the Department of Romance Languages and Literatures at the University of Cincinnati, looks at the grastronomical history of Madrid. She traces the historical origins and evolution of Madrid's cuisine, exploring major trends, most innovative chefs, restaurants, and dishes, and tells he story of this fascinating city from a food lover's point of view. Spanish tapas will be provided alongside her reading and discussion.
Roundtable Tribute to Ángel González on the 10th Anniversary of His Death
Thursday, April 26 | NHCC Wells Fargo Auditorium | 6:00 - 8:00 pm
Ángel González was a member of the Spanish Royal Academy, the prestigious, official watchdog of the Spanish language, and was an acclaimed poet who received such awards as the Prince of Asturias Prize for Letters in 1985, the Reina Sofía Prize, and the García Lorca International Prize, among others. Following an illustrias career as an internationally renowed poet and writer, he accepted a teaching position at The University of New Mexico in the 1970s, where he remained until he retired in 1993. This evening we invite the community to join us for a roundtable memorial honoring Ángel González, featuring testimonials of his life and work by friends and colleagues, a reading of his poems, and an exhibition of his poemns and pictures. After the participants, a tribute plaque will be unveiled at the Spanish Resource Center and light refreshments will be served. Roundtable participants include:
Susan Rivera, Associate Professor of spanish and Portuguese at UNM
(widow of 

Ángel González)

Araceli Iravedra, Head of the 

Ángel González Chair at Oviedo University in Spain

Luis Muñoz, Associate Professor and Honors Advisor at the University of Iowa (friend and colleague of the poet)

Enrique Cortázar, poet and Cultural Activities Coordinator at the Monterrey Institute of Technology (student and friend of the poet)

Maria Paz Moreno, Associate Professor in the Department of Romance Languages and Literatures at the University of Cincinnati
Poesía eres tú / Cuentistas
Friday, April 27 | 9:00 - 2:00 pm | NHCC Bank of America Theater
Now in its 18th year, Poesía eres tú is a poetry contest in which elementary school students in grades first through fiffth recite Spanish poetry from memory on a stage at the National Hispanic Cultural Center, honoring the Spanish language and cultures in front of their teachers, peers, family, and broad community.
Immediately following the poetry contest, middle and high school students from around the state will take the stage to receive trophies and certificates honoring their creative writing in the 14th annual Cuentistas, a Spanish-language writing contest for both native and non-native speakers of the Spanish language.
Notes:
This event is free and open to the public.
Sponsors:
Instituto Cervantes of Albuquerque, National Hispanic Cultural Center, Spanish Resource Center, Latin American and Iberian Institute (with support from the US Department of Education Title VI)