Haciendo justicia desde la comunidad: A Discussion with Peruvian Artists and Activists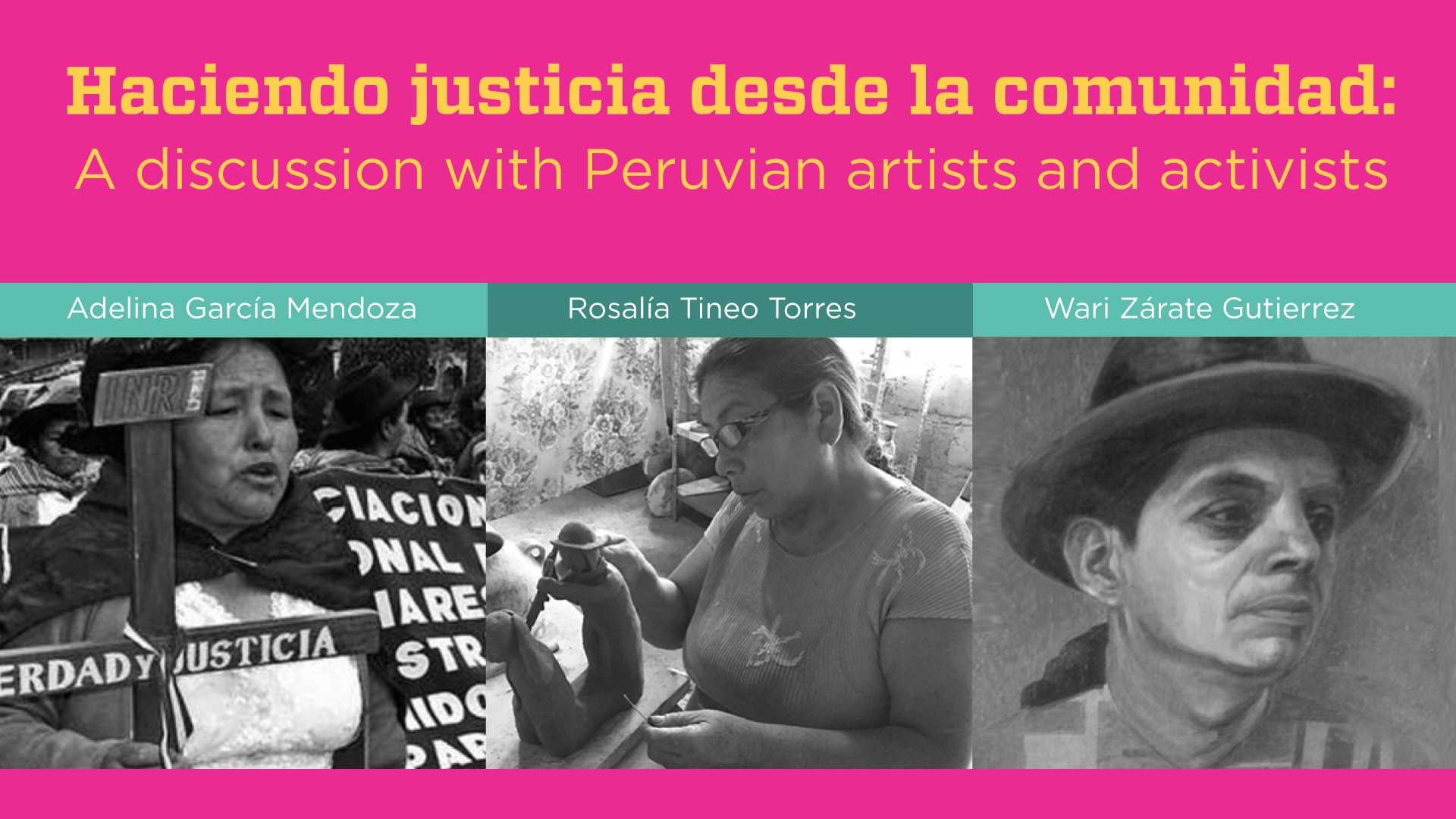 April 11, 2018 - April 11, 2018
Latin American and Iberian Institute
801 Yale Blvd NE (campus building #165)
The LAII is honored to partner with the International Museum of Folk Art to provide an opportunity for the UNM campus and broader Albuquerque community to meet Peruvian artists and activists Adelina García, Wari Zárate, and Rosalía Tineo whose work is at the forefront of the fight for truth, justice, and reconciliation in the wake of the 20 year internal armed conflict with the Shining Path that claimed the lives of nearly 70,000 Peruvians between 1980 and 2000. Using their traditional folk arts of Ayacucho, they give testimony to the stories of individuals and communities who endured violence. The discussion will take place in Spanish with English interpretation.
The discussion takes place in conjunction with Crafting Memory: The Art of Community in Peru, an exhibit (December 3, 2017 - March 10, 2019) of the Museum of International Folk Art in Santa Fe.
Adelina García Mendoza: Seeking Justice for Quechua Women
The history of ANFASEP (National Association of Families of the Kidnapped, Detained and Disappeared, Peru) was born from the idea of forming an association of women affected by the sociopolitical violence of Peru in the 1980s in order to search for their disappeared relatives and fight for justice. Since then, ANFASEP has formed strategic alliances with the local/ provincial government of Huamanga, regional leaders, politicians, members of the church and non-profit sector, and at the international level with the support of Adolfo Pérez Esquivel (winner of the Nobel Peace Prize), among others. Working along with several civil society organizations, ANFASEP demanded the creation of the CVR (Truth and Reconciliation Commission), participated in the completion of its final report, and contributed to the demand for and emergence of state reparations for victims of the civil war. The construction of ANAFASEP's Memory Museum "Para Que No Se Repita" was bolstered by unconditional support from foundations and embassies. The association has also supported public ministry officials and forensic anthropologists in completing exhumations of mass graves at military bases. The Chalina de la Esperanza project, in which ANFASEP was a main participant, was critical for the passage of the "Search for the Disappeared" bill in 2016. Since 2005, ANFASEP has demanded the construction of the "Sanctuary of Memory," seeking support from, government officials, civil society, university representatives, and grassroots organizations.
Wari Zárate Gutiérrez: Psychoemotional Recovery Through Art for Children Affected by Violence
Drawing on a panorama of experiences involving art and children, as well as the use of visual art as therapy, this initiative began in the city of Ayacucho with ANFASEP (1990) and was later implemented at the rehabilitation institute "Alegría de Vivir," or the Joy of Living, in Montreal. Involved since the beginning, Zárate has used artistic expression as a means for aiding the emotional healing of people who suffered or lived in violent contexts. These experiences have helped inidividuals and communities to heal traumas and contributed to their spiritual needs so as to build their self esteem, strengthen their personal relationships, and affirm their cultural identity. The process begins with the premise of "Jugando con el Arte," or Playing with Art, and eventually builds into "Niños, Niñas: Violencia y Arte," or "Children: Violence and Art."
Rosalía Tineo Torres: Together in Memory through Ceramics
Rosalia's work emerges as a response to the injustices and abuses committed by the government against civil society throughout the war in Peru. The series of human rights abuses endured during the political violence era left affected communities with feelings of anguish, outrage, and resentment. Juvenile violence and violence against women are among the sequels of this pervasive violence. At present, many still experience injustices and lack of response from the state. As a folk ceramics artist, Rosalía seeks to communicate a message through each of her art pieces. In some cases, she evokes feelings of love, peace, joy, and reconciliation, while in other pieces, she reminisces experiences of pain, sadness, horror, and violence. For her, the art is the best avenue to express her feelings, thoughts, and emotions. She finds inspiration to produce her art in the respect she feels for her homeland, Peru's resources and communities, and the experiences they endured.   
Related Programming and Exhibit Information
The three guest speakers will also offer presentations in Santa Fe on April 8, 2018, from 1:00 - 4:00 pm. For more information on this opportunity, please see the flyer and website for "Crafting Memory: The Art of Community in Peru: Places of Memory."
The exhibition as a whole, Crafting Memory, is on display through March 10, 2019. It explores the new directions taken by current Peruvian folk artists during the recent decades of social and political upheaval and economic change. The exhibition will highlight the biographies and social histories of contemporary artists along with examples of work that preserve family tradition, reimagine older artforms, reclaim pre-Columbian techniques and styles, and forge new directions for arte popular in the 21st century.
The past forty years have been a time of tremendous change in the Andes, beginning with the Agrarian Reform of 1969 that broke up the large haciendas; a twenty-year internal armed conflict with the Shining Path that engulfed the 1980's and 1990's and claimed nearly 70,000 lives; economic swings, rapid development, the recent large investment in preserving archaeological heritage and the current booming tourism industry. 
All of these forces have all shaped the lives of artists and informed the art they create.  Crafting Memory visits a series of contemporary folk artists in Peru and places their work within this larger framework of Peruvian history and social change. The exhibition will explore the many routes through which craft and folk arts are learned and practiced, including multigenerational crafting families, self-taught artisans, and others who came to folk arts as a means of economic survival during the time of violence.  The show includes a third generation silversmith reviving the art of tupus or shawl stick pins that were worn during the Inca Empire; the art of war orphans from the 1980's who were trained in traditional arts to give hope in dark times; and a collective of young artists in Lima using the medium of silk screening to promote conversations between rural highland and jungle communities with their counterpart migrant neighborhoods in the city, celebrating their shared arts, culture, and customs and emphasizing the value of the handmade, and the ideas, values, and aesthetics that arise from Cultura Popular - common people and everyday life.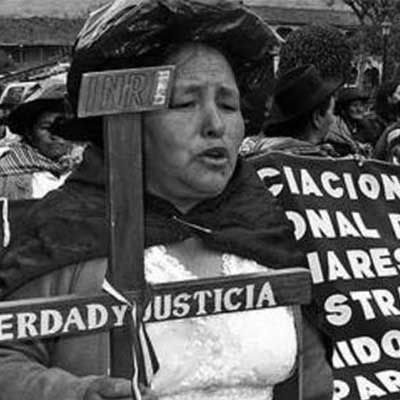 Adelina García Mendoza
Adelina Garcia Mendoza is a founding member and former president of ANFASEP, the National Association of Families of the Abducted, Detained, and Disappeared of Peru. Formed in 1983 by a group of Quechua women looking for information about disappeared loved ones in Ayacucho, ANFASEP has become a leading human rights advocacy organization in the search for truth and reconciliation in post-conflict Peru. Adelina's husband was disappeared in the middle of the night on January 12, 1983 when hooded solders burst into their home and dragged him from bed into the street. To this day she searches for information about his fate. He is one of the nearly 70,000 people disappeared during the 1980-2000 Internal Armed Conflict that shook Peru. Adelina has received national and international awards for her work championing indigenous women's rights. During her time as president of ANFASEP she has traveled internationally as an ambassador of peace work and reconciliation, including presentations at the headquarters at the International Committee of the Red Cross in Geneva, Switzerland and solidarity building with survivors of the indigenous genocide in Guatemala.
Wari Zárate Gutiérrez
Wari Zárate Gutiérrez is an indigenous artist and educator specializing in the use of art in personal and community healing. During Peru's Internal Armed Conflict he taught art classes for the war orphans of ANFASEP, the National Association of Families of the Abducted, Detained and Disappeared of Peru. In association with CHIRAPAQ, the Center for Indigenous Cultures of Peru, he directed the ÑORANCHIQ program from 1990 to 2000, working with children and adolescents in marginalized zones of Ayacucho. The program focused on cultural identity and resilience during the violence of Peru's Internal Armed Conflict. He has also worked with First Nations communities in Montreal, Canada using art as therapy for adults who have been incarcerated and struggle with addiction. Wari has traveled internationally giving talks at universities and museums in Bolivia, Canada, Colombia, the Dominican Republic, Puerto Rico, Spain, and the United States. He has written two books on developing skills and abilities for Quechua children. His artwork is featured in the Museo de la Memoria (Memory Museum) of ANFASEP, Ayacucho and the Lugar de la Memoria, Tolerancia,y Inclusión Social (Place of Memory, Tolerance, and Social Inclusion), Lima, Peru. He is currently a Professor of Fine Arts at the Escuela Nacional Superior Autónoma de Bellas Artes in Ayacucho, Peru.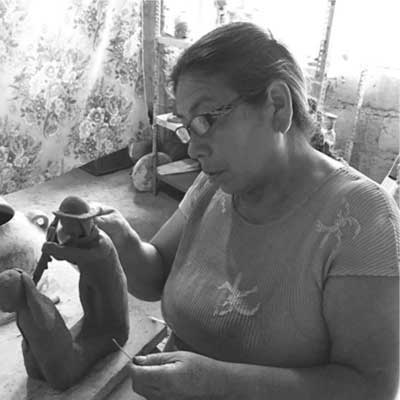 Rosalía Tineo Torres
Rosalía Tineo Torres is a third-generation ceramic artist in Ayacucho, Peru. Her father, Leoncio Tineo Ochoa became famous for his sculpted ceramic figures that also are whistles. Designer Alexander Girard collected dozens of Leoncio's pieces in the 1950's that later became part of the Museum of International Folk Art's permanent collection. Like many in Ayacucho during Peru's Internal Armed Conflict, Leoncio was kidnapped, detained, and tortured. He survived the ordeal but died in 1996. Rosalía continues her father's tradition of whistle figurines and in addition to her folkloric pieces she has begun to sculpt scenes that represent what happened to her family during the years of violence. These figural whistles include depictions of her father blindfolded being struck by the butt of a rifle at the hands of roaming militia. It is through her artwork that she tells the story of her family in an effort to prevent such violence in the future. Her work is displayed at the Lugar de la Memoria, Tolerancia,y Inclusión Social (Place of Memory, Tolerance, and Social Inclusion), Lima, Peru, a museum of the Peruvian Ministry of Culture. Her son is apprenticing with her, becoming the fourth generation of ceramic artists. The collaboration with the Museum of International Folk Art will be the first time she travels internationally.
This program is funded by the International Folk Art Foundation, Museum of New Mexico Foundation, the Latin American and Iberian Institute at UNM, David and Edelma Huntley, Susan Howard and Vincent Pigott, and Libby Wilson. We offer special thanks to Fiorella Vera-Adrianzen, doctoral student in the UNM Department of Political Science, for her invaluable assistance. 
Sponsors:
International Museum of Folk Art
Museum of New Mexico Foundation
David and Edelma Huntly
Susan Howard and Vincent Pigott
Libby Wilson
Latin American and Iberian Institute (with support from the US Department of Education Title VI)
This event is free and open to the public. Off-campus guests may find parking immediately across the street from the LAII offices courtesy of the Yale Parking Structure, at the rate of $1/hour payable by credit card.