Photographic: A Reading and Signing with Author and Illustrator
Isabel Quintero • Zeke Peña
---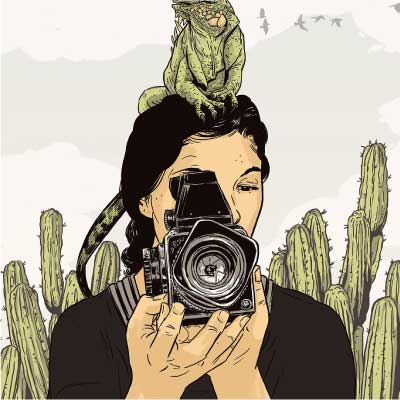 Tuesday, April 10, 2018 | 06:00 pm - 07:30 pm
Hodgin Hall Alumni Center, Bobo Room
About:
Join us for a special evening with author Isabel Quintero and illustrator Zeke Peña as they discuss their newest collaboration, the amazing graphic novel, Photographic: The Life of Graciela Iturbide.
This beautiful graphic novel is available as an English edition, Photographic: The Life of Graciela Iturbide, and as a full, Spanish-language edition called Iguana Lady: La vida de Graciela Iturbide. The novel documents the life and work of the Mexican photographer Graciela Iturbide.
According to the publisher: ""Graciela Iturbide was born in Mexico City in 1942, the oldest of thirteen children. When tragedy strikes Graciela as a young mother, she turns to photography for solace and understanding. From then on Graciela embarks on a photographic journey that takes her throughout her native Mexico, from the Sonora Desert to Juchitán to Frida Kahlo's bathroom, to the United States, India, and beyond. Photographic is a symbolic, poetic, and deeply personal graphic biography of this iconic photographer. Graciela's journey will excite young readers and budding photographers who will be inspired by her resolve, talent, and curiosity."
The J. Paul Getty Museum's website has videos that document Iturbide's work as a photographer, the process for how Quintero and Peña put together this beautiful graphic novel, and also classroom resourcesto help share the book with students. The website also provides a thoughtful, extensive digital preview of the text as part of the educator resources.
Notes:
This event is free and open to the public.
Sponsors:
Honors College, Alumni Association, Latin American and Iberian Institute (with support from the US Department of Education Title VI)