SOLAS Sin Fronteras Latino Film Festival
---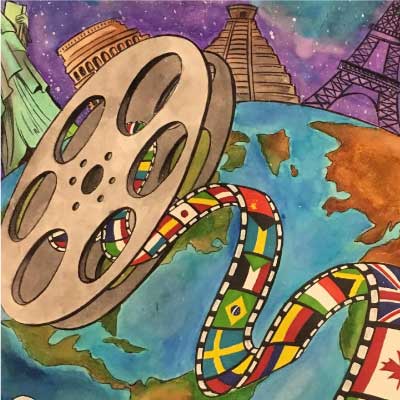 Thursday, March 22, 2018 | 05:30 pm - 07:00 pm
Location Varies
About:
Join the Student Organization for Latin American Studies (SOLAS) for their annual Sin Fronteras Latino Film Festival, a completely free event open to the UNM and greater Albuquerque community. This student-organized festival is devoted to films about Latin America and by Latin American filmmakers. The intent of the event is to contribute to a larger dialogue among UNM and community members regarding unique and important social and academic issues in Latin America. As in past years, the festival is generously supported by a variety of UNM groups and academic departments.
Thursday, March 22
Lonche (Director: Claire Weissbluth; Country: USA; Length: 20 minutes)
7:00pm @ the ASUNM Southwest Film Center in the UNM Student Union Building
A film that tells a tale of two taco trucks: Lonche weaves together the narratives of a traditional lunch truck that roams the strawberry fields of the central coast of California and a gourmet food truck serving the high-tech companies of Silicon Valley. As we follow along with both restaurants-on-wheels on their daily routes, we see the dedication and struggle that it takes to feed a hungry workforce in these two vastly different communities. This short documentary is more than a story about tacos and burritos – it is an intimate look at family, labor, and sacrifice. 

Please join us after the film for a panel discussion with Dr. Renia Ehrenfeucht (Professor and Chair of the Community + Regional Planning Department at UNM), Street Food Institute, and owners of El Paisa restaurant.
Friday, March 23
Poesia sin fin / Endless Poetry(Director: Alejandro Jodorowsky; Country: Chile; Length: 128 minutes)
6:30pm @ the Guild Cinema
Legendary cult filmmaker Alejandro Jodorowsky (The Holy Mountain, El Topo) reimagines his youth spent as an aspiring poet in his surreal and breathlessly inventive new film Endless Poetry. In 1940s Santiago de Chile, 20-year-old "Alejandrito" Jodorowsky vows to become a poet against the will of his disciplinarian father. Leaving home, he is introduced to the inner circle of the artistic and intellectual avant-garde of the time, meeting Enrique Lihn, Stella Diaz, Nicanor Parra and many other promising young writers who will become the masters of Latin America's modern literature. Immersed in a world of poetic experimentation, they live together as few have dared to live before: sensually, authentically, freely, madly. Endless Poetry is a euphoric and unadulterated portrayal of artistic exuberance told through Jodorowsky's dreamlike and kaleidoscopic visual language.
Saturday, March 24
Presos / Prisoners (Director: Esteban Ramírez; Costa Rica; 97 minutes)
4:00 pm @ the Guild Cinema
A young girl gets involved in a family drama when she starts a secret friendship with a prison inmate. All parts involved, inside and outside, will have to deal with the consequences of such kind of relationship and what's necessary to preserve it.
Pelé: Birth of a Legend (Director: Jeff Zimbalist, Michael Zimbalist; Country: Brazil, USA; Length: 107 minutes)
6:30 pm @ the Guild Cinema
Pele's meteoric rise from the slums of Sao Paulo to leading Brazil to its first World Cup victory at the age of 17 is chronicled in this biographical drama.
Sunday, March 25
El soñador / The Dreamer (Director: Adrián Saba; Country: Peru; Length: 80 minutes)
12:00 pm @ the Guild Cinema
Sebastián has a talent for picking locks, and that's the only reason his supposed friends put up with him. The gang breaks into industrial buildings and dockside warehouses in and around Lima. It's a grim life as a petty crook, which Sebastián endures by escaping into an own personal dream-world. One day Emilia appears in his inner realm. It becomes increasingly difficult to distinguish whether their strong feelings for each other are real or part of the fantasy world. Emilia's two brothers, the leaders of the gang of thieves, will never accept their love. When Sebastián gets into a confrontation with one of them, he lashes out. There's only one way out of this nightmare, but before his planned escape with Emilia, Sebastián risks one last great coup.
Ovnis en Zacapa (Director: Marcos Machado; Country: Honduras; Length: 90 minutes)
4:30 pm @ the Guild Cinema
UFO sightings are reported in northeastern Guatemala. Rober Daneri, a frustrated college professor along with the production team of a sensationalist TV show, embarks on a supernatural journey across the thin boundary between blind faith, self-delusion and the unknown in search of truth. 

Please join us after the film for a Q&A with director and cast.
Notes:
This event is free and open to the public. For questions and complete information, please contact SOLAS@unm.edu or visit the SOLAS website.
Sponsors:
Associated Students of the University of New Mexico (ASUNM), Department of Spanish and Portuguese , Graduate and Professional Student Association (GPSA), Latin American and Iberian Institute (with support from the US Department of Education Title VI), Student Organization for Latin American Studies