Latinx Visions: Speculative Worlds in Latinx Art, Literature, and Performance
---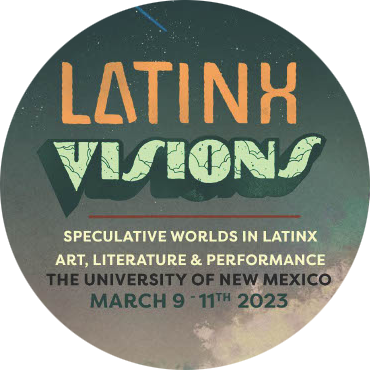 Thursday, March 09, 2023 | 08:30 am
Student Union, Chicana/o Studies Casita, The Outpost, NHCC
About:
Latinx artists, writers, and performers are envisioning speculative worlds, including dystopias, utopias, apocalyptic lands, fantastic futures, and horrifying worlds, at a greater rate than ever before. This creative renaissance raises the following questions: Why are Latinx creators drawn to the speculative genres of science fiction, fantasy, and horror, and why now? What is aesthetically exceptional about these new Latinx speculative worlds? With these questions in mind, the Latinx Visions project is gathering, for the first time, some of the most prominent scholars working on this topic for a conference at the University of New Mexico on March 9-11, 2023. The members of the project team, Matthew David Goodwin, Cathryn Merla-Watson, and Santiago Vaquera-Vásquez, have each been guiding the development of this field for over a decade, and are uniquely prepared to bring together the various threads of scholarship from across the Humanities. The conference will be free and open to the public, both virtual and in person. Approximately seventy professors will give presentations at the conference, and we expect that there will be at least a hundred students attending over the course of the conference. Following the conference, the project team will arrange the conference papers into a volume of revised and peer-reviewed chapters. The edited volume, Latinx Visions, is slated to be published in September of 2024 through the Ohio State University Press for their book series "New Suns: Race, Gender, and Sexuality." In addition to the publication of an edited volume, the conference will result in the creation of a multimedia archive accessible to academics and the larger public that will be housed at the website www.latinxarchive.com. In sum, the Latinx Visions project will forge a vital arena for understanding Latinx speculative worlds, significantly advancing the state of this rapidly growing field.
Matthew David Goodwin is an Assistant Professor in the Chicana/o Studies Department at the University of New Mexico. His research is centered on Chicanx/Latinx speculative fiction, in particular how Chicanx/Latinx writers are using science fiction, fantasy, and digital culture to explore migration. His study The Latinx Files: Race, Migration, and Space Aliens was released through Rutgers University Press in 2021. His research is intertwined with work as an editor and translator of fiction anthologies. He is the editor of Latinx Rising: An Anthology of Latinx Science Fiction and Fantasy and the co-editor of the collection Speculative Fiction for Dreamers (both with Ohio State University Press).
Notes:
This event is free and open to the public.