K-12 Educator's Workshop - Before the Bracero Program
---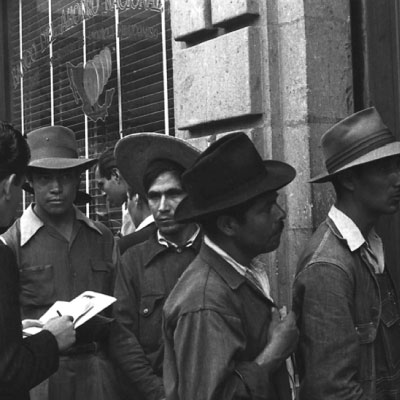 Thursday, May 02, 2019 | 05:00 pm - 08:00 pm
National Hispanic Cultural Center, History and Literary Arts Building
1701 4th St. SW
About:
Join us for an evening of free professional development as we explore the shared history of Mexico and the United States in the early 20th century, outlining the decades and formative events that eventually led to the Bracero Program. The workshop complements the Braceros photography exhibit on display through June 30 in the National Hispanic Cultural Center's History and Literary Arts building.
In the first portion of the workshop, Dr. Brandon Morgan, Department Chair and History Instructor at CNM, will discuss the historical context of nationalism, immigration, and labor practices within and between the United States and Mexico in the early twentieth century. Formative events such as the Mexican Revolution, the Great War, and the Great Depression, brought about drastic changes for both countries and in various ways set the stage for what would eventually become the largest contract labor program in our country's history.
The latter portion of the workshop will entail a private tour of the exhibition led by Anna Uremovich, archivist for the NHCC's History and Literary Arts (HLA) program. The exhibit draws on the archives of Mexico's Secretariat of Foreign Relations, and features a collection of black and white photography that explores the Bracero Program as it was seen by the men and women who lived it. Curated by Mexican historian John Mraz, the exhibit explores the immigration policies and personal stories behind the Bracero program, a bilateral agreement between Mexico and the United States that brought Mexican men to the US to serve as short-term, primarily agricultural guest workers from 1942 to 1964.
Notes:
This event is free and open to the public. Participants will receive certificates of professional development, access to curriculum materials, and dinner. Questions and comments may be directed to laiioutreach@unm.edu.
Please RSVP to laiioutreach@unm.edu to reserve your space.
Sponsors:
Latin American and Iberian Institute, National Hispanic Cultural Center