Proyecto Jaranera & Las Brujas Jaraneras
Ana Zarina Palafox Méndez
---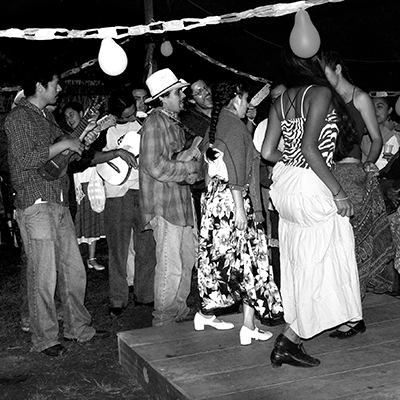 Thursday, April 11, 2019 | 12:00 pm - 01:30 pm
Latin American and Iberian Institute
801 Yale Blvd NE (campus building #165)
About:
Conferencia con Ana Zarina Palafox Méndez y video documental 'El Fandango Jarocho'.
Dentro de la lírica popular que está ligada a los estilos de son tradicional en México, durante el S. XX la imagen de la mujer se admitió solamente como bailadora y objeto de piropo, ya sea por usos y costumbres en las poblaciones o, en otros casos, porque los estereotipos en los nacientes medios de comunicación masiva allí la colocaron.
Comenzando el S. XXI, un par de convocatorias/publicaciones reunieron a mujeres que escriben décima, la mayoría de forma personal, casi clandestina, y detonaron interesantes procesos de valoración, revitalización y análisis.
Ana Zarina es mexicana, alumna de folklore latinoamericano desde los 70's, músico escénico desde los 80's. Inspirada en Tlacotalpan, desde 1985 desarrolla la improvisación de versos cantados y décima. Es intérprete, improvisadora y analista de la lírica tradicional de Sotavento, Huasteca, Tierra Caliente, Sierra Gorda y otros países de Iberoamérica. Imparte un taller de verso improvisado, "Jugando con la rima" y forma parte de la Organización Iberoamericana de Formadores del Verso Improvisado.
Conocida durante muchos años como arpista en el son jarocho y músico multinstrumentista, sigue en activo como trovadora y músico, ha realizado video documental y desea seguir viajando, para contarles en versos, textos, conferencias, fotografías, música y videos mucho más acerca de su país al que adora.
Resumen de El Fandango Jarocho: La fiesta del fandango es abordada desde los testimonios de algunos de los más reconocidos estudiosos y recreadores como Antonio García de León, Los Vega, Zenen Zeferino, y Gilberto Gutiérrez, entre otros. Este video documental nos narra el origen, los ritmos, las formas musicales y los bailes del son jarocho en las diferentes regiones del Sotavento veracruzano. El objetivo de este documental es contribuir al análisis, el diálogo y a los procesos de enseñanza-aprendizaje de la música y el baile tradicional que allí encuentran su espacio natural.
Notes:
This event is free and open to the public.
Sponsors:
Chicano & Chicana Studies, Latin American and Iberian Institute