CNM•UNM LAS Speaker Series: The US Embassy's Role in Human Rights in Guatemala: How Foreign Service Officers Can Make a Difference
David Lindwall, Retired Foreign Service Officer / MA Student, UNM Latin American Studies Program
---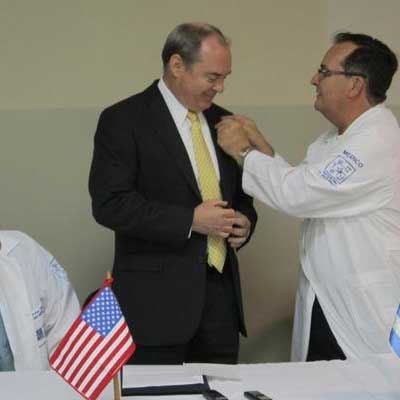 Tuesday, March 05, 2019 | 03:00 pm - 04:00 pm
CNM Main Campus
Smith Brasher Hall, Room 213
About:
Join the CNM and UNM Latin American Studies (LAS) programs for the second presentation in the Spring 2019 LAS Lecture Series as David Lindwall, retired Foreign Service Officer and current MA student in the UNM LAS program, shares a presentation on the role of the US Embassy in Guatemala.
Individual Foreign Service Officers have over the years had a significant role in shaping US policy towards human rights in Guatemala.  This presentation will draw on examples from Guatemala's tortured human rights history to illustrate how those considering a career in the foreign service today can influence foreign policy in ways that strengthen human rights.  It will also address how students can be competitive for jobs in the Foreign Service.
David Lindwall is a first-year MA student in Latin American Studies at UNM. He served for 33 years as a Foreign Service Officer in the State Department at postings in Guatemala, Honduras, Nicaragua, Colombia, Ecuador, Paraguay, Haiti, Iraq, Afghanistan, Spain and Sweden, as well as postings in Washington.  For his service in Haiti during the earthquake of 2010 and the recovery phase, he was awarded the Baker-Wilkins Award for Outstanding Deputy Chief of Mission, and his work on stabilizing the democratic government of Afghanistan won him the Ryan Crocker Award for Leadership in Expeditionary Diplomacy in 2014.
To learn more about Lindwall's background, see this recent coverage in the Huffington Post, "Diplomats in the Trenches: From 'Observing and Reporting' to 'Advocacy and Lobbying.'" 
Notes:
This event is free and open to the public. Off-campus guests may request a free e-permit for parking. Visit the CNM website for more information. 
For information concerning the complete spring lecture series, please see the series flyer.
Sponsors:
Central New Mexico Community College (CNM), Latin American and Iberian Institute (LAII)