Annual Colloquium Highlights Graduate Student Field Research
October 23, 2018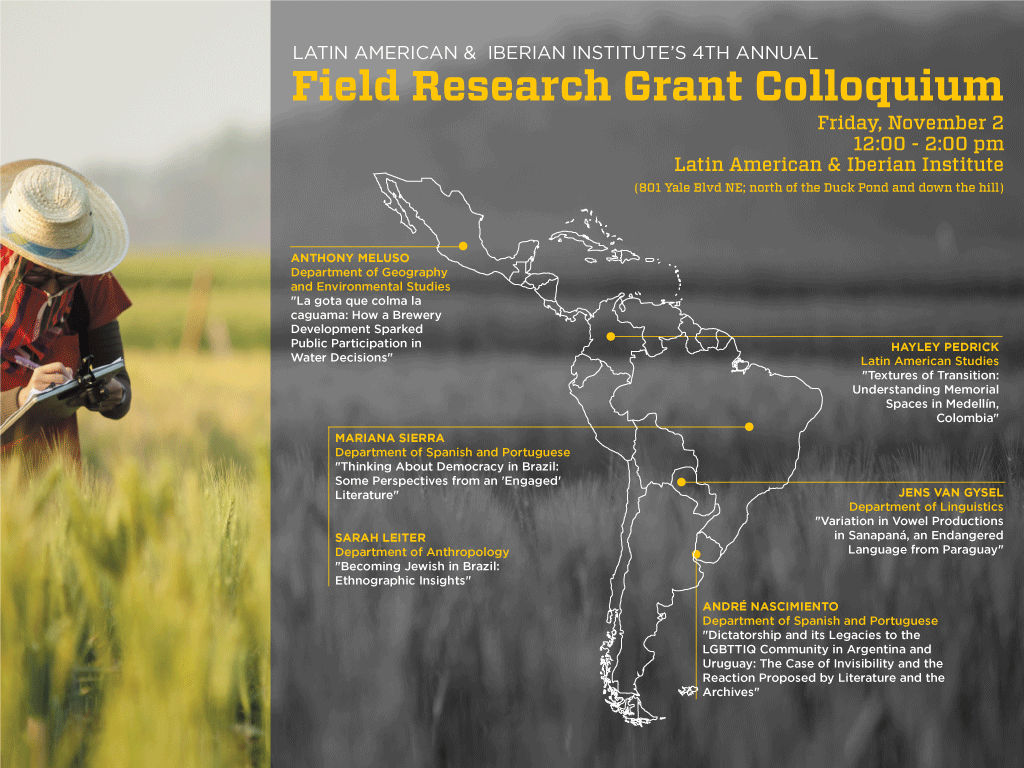 ---
On Friday, November 2, 2018, from 12:00-2:00 p.m., the LAII highlights graduate student scholarship with its fourth annual Field Research Grant (FRG) Colloquium and reception. Six recent FRG recipients will share their respective research experiences and findings in a series of presentations. Afterward, current and past FRG recipients and members of the LAII community are invited to mingle and learn more about the exciting research initiatives of UNM's Latin Americanist graduate students. 
Funded in part by the Tinker Foundation, LAII Field Research Grants provide support for graduate students in any UNM department to conduct fieldwork in Latin America. FRGs are meant to assist students in obtaining their first or second field research experience in Latin America. The grants are generally for fairly brief periods of research (typically two weeks to four months) and provide funding for airfare, in-country transportation and some expenses in the field. Awards are given annually each spring. For more information, see the complete description of Field Research Grant funding.
Below is more information concerning each presenter:
Sarah Leiter
Title: Becoming Jewish in Brazil: Ethnographic Insights
Abstract: In recent years, small pockets of Brazilians throughout the country have been discarding their Christian pasts and taking on a practice of Judaism. My preliminary ethnographic fieldwork in May 2018 sought to explore the ways in which some of these Brazilians are navigating an emergent identification with a religion that they perceive to be somewhat incompatible with their simultaneous identification as Brazilian.
Bio: Leiter is a PhD student in the Ethnology subfield in the UNM Department of Anthropology. Her research foci are language, religion, and the ideological and semiotic points at which they overlap.
Anthony Meluso
Title: La gota que colma la caguama: How a Brewery Development Sparked Public Participation in Water Decisions
Abstract: Broad and diverse participation of actors is well recognized as a prerequisite for effective and equitable water management. This project explores how an internationally owned brewery development sparked renewed participation from various urban and rural groups in the Mexicali Valley. I argue that widespread resistance from different groups was underpinned by neoliberal development tensions that have diminished local agency, but the strong symbolic nature of beer, water and politics provided the catalyst for a social movement to reestablish local decision making power.
Bio: Meluso is an MS student in the UNM Department of Geography and Environmental Studies, studying with Dr. Benjamin Warner. His research applies mixed methods approaches to environmental governance and social justice with a focus on water in the Southwestern US and northern Mexico.
André Nascimento
Title: Dictatorship and its legacies to the LGBTTIQ community in Argentina and Uruguay: The case of invisibility and the reaction proposed by literature and the archives
Abstract: This presentation will broach questions of how the archives exhibited in Memory Sites and contemporary literary production in Argentina and Uruguay (de)construct social visibility and consequent formulation of rights to non-heterosexual subjects. This talk will focus on how these Memory Sites and contemporary literature portray such accounts. I examine that these representations (or the lack thereof) project non-normative subjects into national official history or oblivion, producing significant unbalance between formal and substantial rights for these populations.
Bio: Nascimiento is a dual MA student in the UNM Department of Spanish and Portuguese, with a focus in Portuguese and Hispanic Literature. During this research, he was working under Dr. Jeremy Lehnen and Dr. Leila Lehnen. He is interested in how contemporary literature dialogues with human rights and citizenship of non-heterosexual individuals. His work seeks to identify the ways that contemporary literature, at times, intervenes in and suggests social justice, aiming at leading major civil debates and reflection regarding inequalities based on sexual orientation and gender identity.
Hayley Pedrick
Title: Textures of Transition: Understanding Memorial Spaces in Medellín, Colombia
Abstract: The past decade has welcomed a surge in the creation of memory and human rights museums. Scholarship links concepts of transitional justice with the rush to memorialize and suggests the emergence of a global aesthetic for commemorating hardship. The aim of this fieldwork in 2018 was to survey existing memorials and commemorative spaces in Medellín, Colombia. Starting with the most formal institutions and gaining familiarity with smaller grassroots projects, she interviewed scholars and community activists and composed field notes over the course of four weeks and drew primarily from scholarship in the geography of memory and museum studies. As Colombia transitions from a half-century-long civil conflict towards peace, her work engages issues of historical truth, accessibility, and voice in memorial spaces.
Bio: Pedrick is an MA student in Latin American Studies with concentrations in Geography and Brazilian studies. She studies both landscapes of memory and food-ways as methods of understanding cultural production and expressions of identity.
Mariana Sierra
Title: Thinking about Democracy in Brazil: Some Perspectives from an "Engaged" Literature
Abstract: Political scientists contend that since 2006, democracies worldwide have seen a setback. In the Brazilian case, the protests of 2013 and the impeachment of the President Dilma Rousseff are paradigmatic of this democratic recession. After the impeachment and through a right-wing government that constantly attacks economic, social and cultural rights, some poetic anthologies were released as an (im)mediate and critical response. As a consequence of this, the aim of her fieldwork (July-August, 2018) was to work with the GELBC (Study Group of Brazilian Contemporary Literature) and to interview some writers (poets and novelists) that participated in the anthologies Vinagre, antologia de poetas neobarracos and Golpe, antologia manifesto, in order to understand how these collective works were organized and how they collaborated with a democratic discussion in a public sphere. Ultimately, her work asks how literary discourse broaches the limits and possibilities of democracy as a discourse.
Bio: Sierra is a PhD student in the Department of Spanish and Portuguese. She is interested in the intersections between cultural products and the discourses about democracy in Brazil and other countries in Latin America.
Jens Van Geysel
Title: Variation in Vowel Productions in Sanapaná, an Endangered Language from Paraguay
Abstract: For several decades now, it has been clear that the languages of the world are disappearing at alarming rates. One of these endangered languages is Sanapaná, spoken by less than 1000 speakers in the Paraguayan part of the South-American Chaco region. The purpose of the fieldwork in 2018 was to start investigating in which way the Sanapaná language is being affected by long-standing contact with Spanish and Paraguayan Guaraní (the languages of the national society), and to establish contacts with which a language maintenance programme can be established in the future.
Bio: Van Geysel is a PhD student in the UNM Department of Linguistics, working with Dr. Rosa Vallejos. His main research interests are language documentation and description, specifically in the South American Chaco region. He is also interested in historical-comparative and areal linguistics within this region, a field of research which can lead to insights in the histories of the peoples living in the Chaco.