Visual and Cultural Literacy about Central America Focus of Teacher Professional Development
October 4, 2018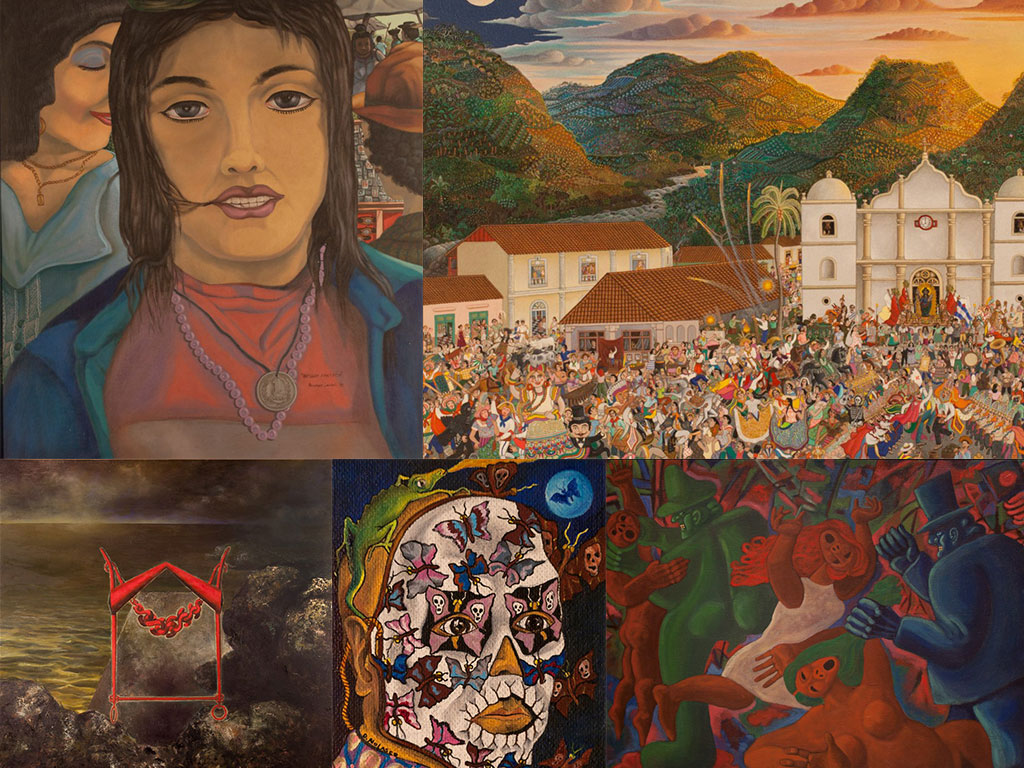 Central American artists, including: Armando Campos, Antigua fantasia, 1992, Acrílico; Julio Sequeira, La fiesta de Boaco, 1980, Acrílico; Rodolfo Molina, Sin titulo, 1988, Técnica mixta; Dagoberto Nolasco, Máscara blanca con iguana, Técnica mixta; Antonio Bonilla, La masacre de los santo inocentes, Acrílico; Julio Sequeira Hombre cósmico, 1983 Acrílico
---
The Latin American and Iberian Institute is pleased to announce an evening of free professional development led by Muriel Hasbun, artist and founder of Laberinto Projects. Hasbun will facilitate a three hour visual literacy workshop for middle and high school teachers on using Central American art to foster dialogue about migration, and to better understand the history and culture of El Salvador. 
Participants will learn how to integrate Central American resources into lesson plans, while encouraging critical thinking and a more culturally-equitable curriculum. Hasbun will give an overview of her artwork before engaging participants in a writing and sharing exercise using visual materials from Central America.
Hasbun's expertise as an artist and as an educator focuses on issues of cultural identity, migration and memory. Her awards and distinctions include: CENTER Santa Fe's Producer's Choice and Curator's Choice, Smithsonian Artist Research Fellowship, the Howard Chapnick Grant/W. Eugene Smith Memorial Fund; Maryland State Arts Council Individual Artist Awards in Photography and in Media; a U.S. Department of State/AAM Museums Connect grant; Artist in Residences at the Centro Cultural de España, San Salvador and the Escuela de Bellas Artes, San Miguel de Allende, Mexico; the Corcoran's Outstanding Creative Research Faculty Award, and a Fulbright Scholar Grant.
Hasbun's work has been internationally exhibited: PINTA Miami, Civilian Art Projects, American University Museum, Centro Cultural de España, Maier Museum of Art, Light Work, Mexican Cultural Institute, Centro Cultural Recoleta, Museum of Photographic Art, FotoFest, Corcoran Gallery of Art, 50th Venice Biennale, Centro de la Imagen, Musée de l'Arles Antique at the Rencontres Internationales de la Photographie d'Arles. Similarly, her photographs are in numerous private and public collections, including the Art Museum of the Americas, District of Columbia Art Bank, En Foco, Lehigh University, Museo del Barrio, Smithsonian American Art Museum, University of Texas-Austin and the Bibliothèque Nationale de France.
Building upon her career as a socially engaged artist and a photography professor, she is currently the founder and director of laberinto projects, a transnational, cultural memory initiative fostering contemporary art practices, social inclusion and dialogue in El Salvador and its U.S. diaspora.
Visit the registration page to reserve a space. Questions may be directed to laiioutreach@unm.edu