2018 Study Abroad Program Focuses on Indigenous Cultures of Colombia
September 26, 2018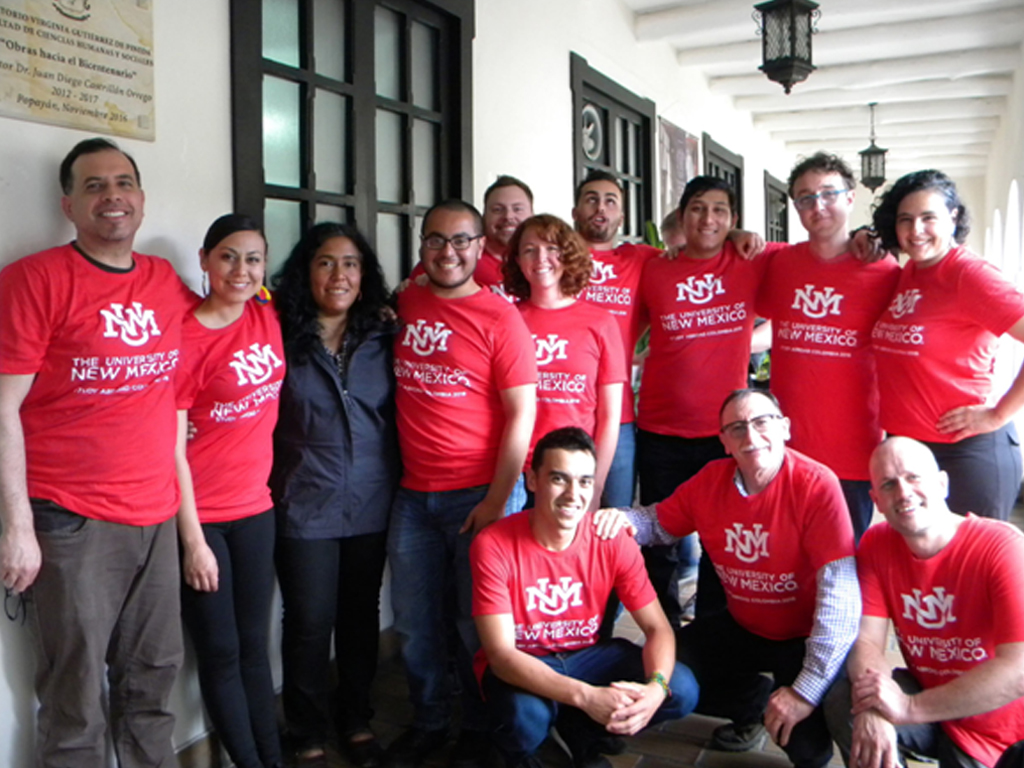 Program participants in Colombia.
---
In Summer 2018, UNM hosted its first study abroad program in Colombia, "Culturas Indígenas de Colombia," with the support of the Latin American and Iberian Institute and Global Education Office. Dr. Richard File Muriel, Associate Professor in the Department of Spanish and Portuguese, led the program, which included 14 students (10 graduate and 4 undergraduate) from multidisciplinary backgrounds such as Latin American Studies, Spanish, Hispanic Linguistics, Journalism, Sociology and Political Science.
Student participants spent two weeks in Popayán, Cauca, at one of the oldest universities in Colombia: the Universidad del Cauca. In the morning, students took Nasa Yuwe language classes, the native language of the Nasa people, one of the largest indigenous groups in Colombia. In the afternoons, they attended colloquia given by professors specializing in language revitalization, ethno education, and Intercultural studies. They also learned about the sociopolitical context in Cauca surrounding the indigenous movement.
After acquiring basic language skills, the group embarked on a week-long road trip during which they camped in the Andes mountains in Cauca and stopped in three Nasa communities. Students visited the Nasa community's schools, where they met with teachers and students, played soccer, sang and read poems, and shared experiences and world views around the Tulpa (sacred fire).
As a whole, the study abroad program provided students with deeper insight into contemporary Indigenous culture in Colombia. Upon returning to the US, the faculty leaders asked for feedback from the UNM students. Responding to the question, "What did you like best about the language classes?," one student answered with:
"That we were instructed and guided by a speaker of Nasa Yuwe, that he was a very knowledgeable and humble individual, that he gives and cultivates respect and patience in the practice of teaching, speaking, conversing. It was great to be able to visit communities where the language is alive and in use, to be able to have our language class happen in real time, in real space, with real pragmatic and social weight."
This pioneering program has opened the doors for UNM students to experience and learn from both public and indigenous universities in Colombia. As a result, UNM now has two new Cooperation Agreements with Universidad del Cauca and Universidad de Antioquia. Next summer, the program will repeat, bringing this enriching and unforgettable learning experience to more UNM students. This fall, the 2018 student participants have brought their experiences back to campus with them and will share back in a panel presentation about their experiences. Prospective students who are interested in the 2019 study abroad program are encouraged to attend the panel presentation, which will take place on Thursday, September 27, 2018, from 11:00 - 12:30 pm at the Latin American and Iberian Institute.
Photos
---