UNM Faculty, Students, and Alumni Present at International Conference on Amazonian Languages
July 6, 2018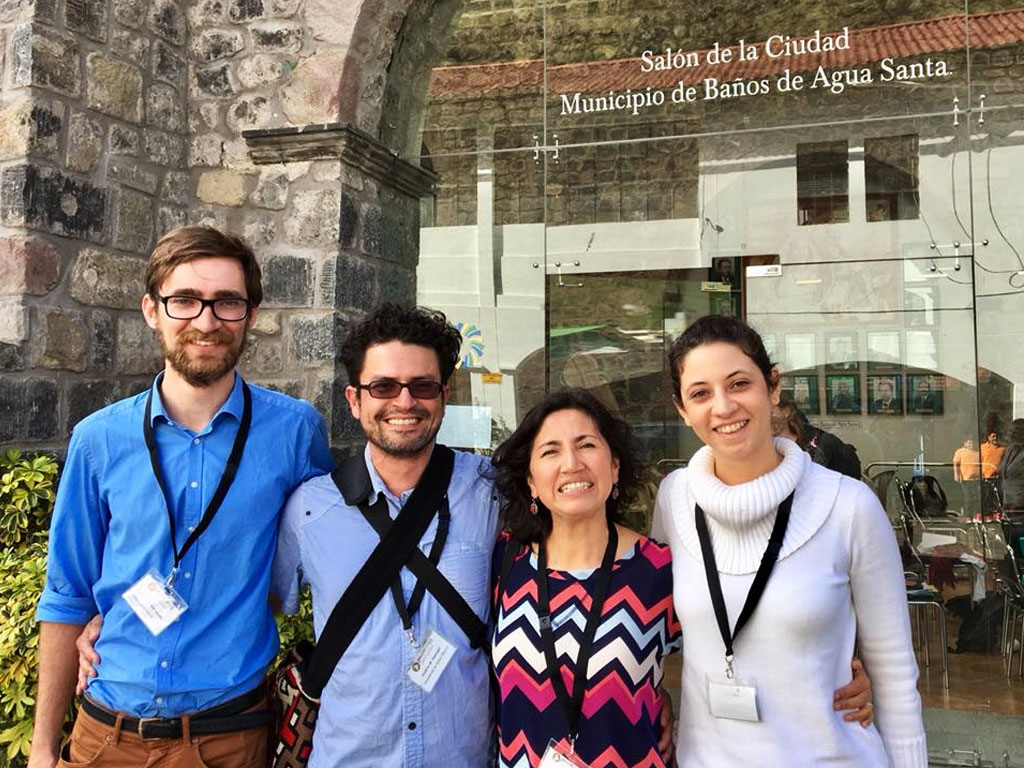 ---
With five scholars in attendance, UNM had a particularly strong presence at this year's Amazonicas 7, an international conference on Amazonian languages. Pictured here are UNM participants Associate Professor Rosa Vallejos, graduate students Josefina Bittar & Jens Van Gysel, and newly minted PhD (and MALAS alum), Dr. Andrés Sabogal. Not pictured here is Assistant Professor Chris Koops, who also attended.
UNM participants presented, respectively, on "Word-level Prosody in Kukama-Kukamiria:The Interplay of Stress and Vowel Reduction" (Vallejos and Koops); "Grammaticalization of Abilitative 'Know' in Tupi-Guarani Languages" (Bittar); "Enlhet-Enenlhet Nominal Temporal Reference in an Areal Perspective" (van Gysel); and "El Aspecto en el Wayúunaiki" (Sabogal). During the conference, Associate Professor Vallejos was selected by the assembly to serve on the Permanent Committee, which plans the conference and associated summer school, for an 8-year term.
Held this year in Baños, Ecuador from May 28-June 1, 2018, the Amazonicas conference consists of four symposia on specific topics in the area of syntax, phonology, language families, and language and society. This year, topics included tense and aspect; verbal art; languages of the central Andean foothills; and accent, tone, and intonation.
This prestigious conference brings together renowned scholars from across the world. Having participated with such a strong contingent, UNM demonstrates its commitment to the teaching, study, and research of indigenous languages of Latin America and, moreover, for addressing the broader social context and cultural processes associated with these linguistic communities.
Alongside the Department of Linguistics and the Department of Spanish and Portuguese, the LAII contributes to UNM's excellence in this field of study by offering conference travel support, field research funding, doctoral fellowships, and Foreign Language and Area Studies (FLAS) Fellowships to faculty and graduate students across campus. This financial support is made available in part through the LAII's Title VI National Resource Center grant, which emphasizes the study of less-commonly-taught-languages of Latin America.