Professor Santiago Vaquera Vasquez Releases Book and Companion Website
July 9, 2018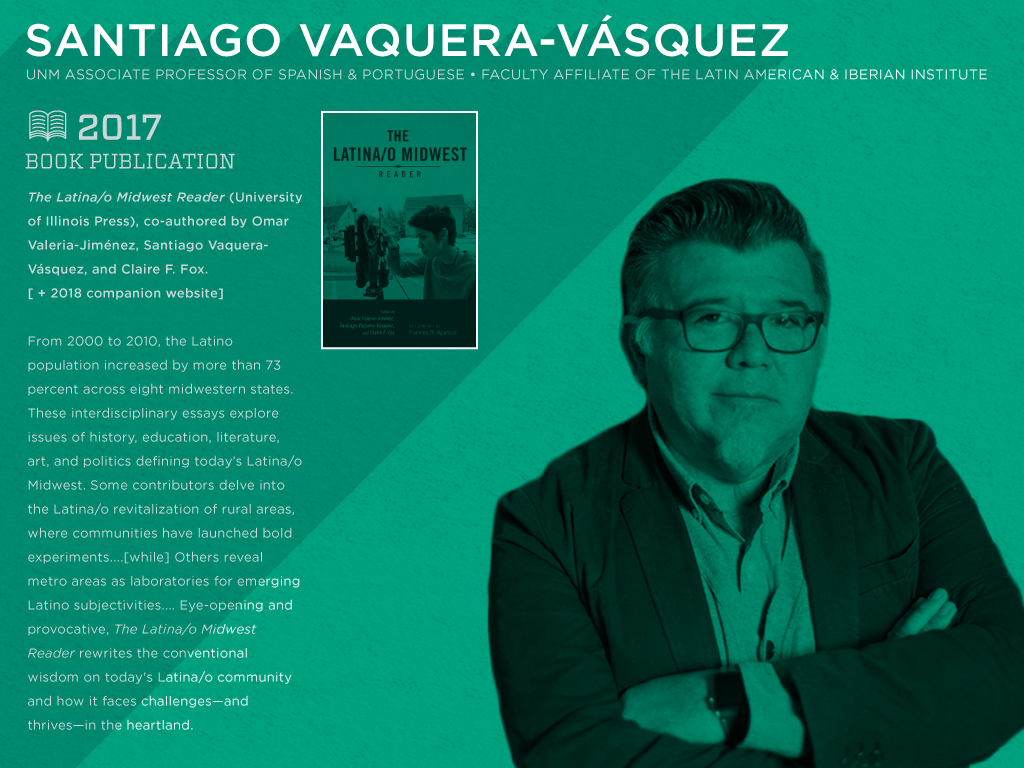 ---
In 2017, Dr. Santiago Vaquera-Vásquez, Associate Professor in the UNM Department of Spanish and Portuguese and faculty affiliate of the LAII, released the co-edited volume, The Latina/o Midwest Reader (University of Illinois Press). Recently, the publisher released a companion website to share enriched resources with students and faculty. New materials include links to articles, videos, and other secondary sources related to each of the Reader's chapters.
Co-edited by Omar Valerio-Jiménez, Santiago Vaquera-Vázquez, and Claire F. Fox, the anthology contests the notion that the Midwest is monolithically white. The editors also set out to establish that Latinos did not just recently arrive in the Midwest. Instead, as their collection of essays amply show, Latinos arrived in the region in the late-nineteenth century and have continued to migrate to the region as a result of various labor agreements and immigration policies. Contributors to the collection discuss Latinos in the Midwest from several angles, focusing on the social and political challenges they face, for example. In their essays, these scholars do not depict the Midwest as a fixed pastoral geopolitical landscape but rather as a multiracial region that is vibrant and continuously changing as a result of Latinos' presence.
Reviewers have unanimously praised the book since its release. As Dr. Perla M. Guerrero of the University of Maryland observes, "The Latina/o Midwest Reader makes a valuable contribution to Latina/o studies by pushing the field to look beyond the East and West Coast model for the experiences of Latina/o communities, and it will be of interest to undergraduate and graduate students working on Latina/o history and studies, midwestern studies, migration and immigration, relational race and ethnicity, and women's and gender studies. Every educator in the Midwest, from pre-K to college, should read the book in order to understand the region in more of its complexity."
Vaquera-Vásquez is a self-described unrepentant border crosser, ex-dj, writer, painter, and academic. His literary work has been published in anthologies in Spain, Italy, Latin America and the United States, including Malos elementos. Relatos sobre la corrupción social (2012); En la frontera: i migliori raconti della letteratura chicana (2008); Pequeñas resistencias 4 (2005); Se habla español (2000); and Líneas aéreas (1998).  His stories have also appeared in journals including Etiqueta Negra, Los noveles, Paralelo Sur, Revista 0, Camino Real, and Ventana abierta. He recently published a small chapbook with a selection of already published stories, Algún día te cuento las cosas que he visto. He has been invited to give readings from his work at universities and conferences in Spain, Mexico, Colombia, and the United States. His academic work on US/Mexico border cultures has been published in journals and anthologies in Mexico and the United States. He has also presented this work at international conferences.