Professor Mala Htun Releases New Book on Gender Violence
July 6, 2018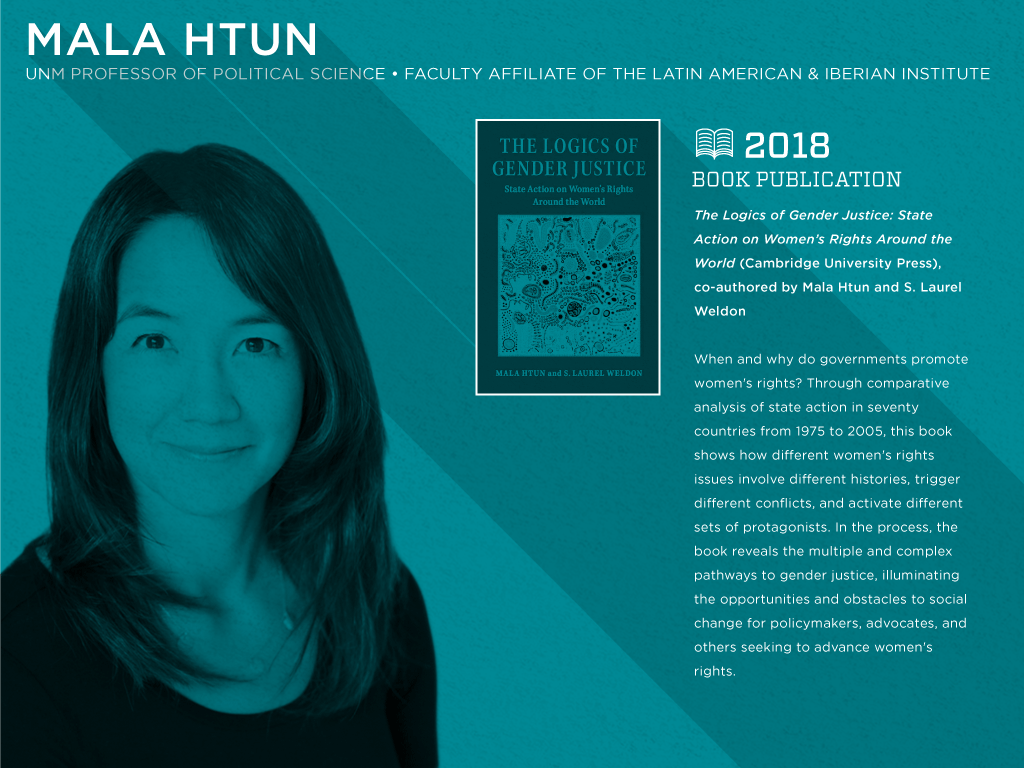 ---
Dr. Mala Htun, Professor in the UNM Department of Political Science and faculty affiliate of the LAII, has released The Logics of Gender: State Action on Women's Rights Around the World (Cambridge University Press), co-authored alongside S. Laurel Weldon of Purdue University.
When and why do governments promote women's rights? Through comparative analysis of state action in seventy countries from 1975 to 2005, this book shows how different women's rights issues involve different histories, trigger different conflicts, and activate different sets of protagonists. Change on violence against women and workplace equality involves a logic of status politics: feminist movements leverage international norms to contest women's subordination. Family law, abortion, and contraception, which challenge the historical claim of religious groups to regulate kinship and reproduction, conform to a logic of doctrinal politics, which turns on relations between religious groups and the state. Publicly-paid parental leave and child care follow a logic of class politics, in which the strength of Left parties and overall economic conditions are more salient. The book reveals the multiple and complex pathways to gender justice, illuminating the opportunities and obstacles to social change for policymakers, advocates, and others seeking to advance women's rights.
Reviewers have lauded the book. Frances McCall Rosenbluth of Yale University, for instance, wrote that "'This book will be an instant classic in the politics of gender because of its power and scope. Based on meticulous empirical research, Htun and Weldon explain vast variation - within and across countries - in government policies that could help women advance towards full political, economic, and social equality. By disaggregating gender politics along different dimensions, they are able to uncover separate logics underlying, for example, family law, violence against women, and support for childcare - a masterful achievement." Kimberly J. Morgan of George Washington University offered similar praise, noting that "'One of the most important developments today is the expanding rights and power of women, yet policies that support women's equality in the law, family, and workplace differ a great deal around the world. Htun and Weldon's landmark book provides a valuable mapping and characterization of gender equality-promoting policies in 70 countries, as well as a streamlined and powerful framework for explaining them. Packed with data, qualitative case studies, and theoretical insights, this book is essential reading for scholars seeking to understand the rise of women's rights, the influence of women's movements, and the effects of political conflicts rooted in class and religion on gender relations around the globe."
Along with her position as Professor of Political Science, Htun is deputy director of ADVANCE at UNM. She is the author of Inclusion Without Representation in Latin America: Gender Quotas and Ethnic Reservations (Cambridge University Press, 2016) and Sex and the State: Abortion, Divorce, and the Family under Latin American Dictatorships and Democracies (Cambridge Press, 2003). In 2015, she was named an Andrew Carnegie Fellow. Formerly, she held the Council on Foreign Relations International Affairs Fellowship in Japan, and was a fellow at the Kellogg Institute of the University of Notre Dame and the Radcliffe Institute of Harvard. She has been supported by grants and fellowships from the National Science Foundation, National Institutes of Health, Norwegian Research Council, Social Science Research Council, and National Security Education Program. She has served as a consultant to the World Bank, UN Women, Inter-American Development Bank, and the Inter-American Dialogue. She holds a Ph.D. in political science from Harvard and a A.B. in international relations from Stanford, and was Assistant and then Associate Professor at the New School for Social Research from 2000-2011.