MALAS Alumnus Patrick Schaefer Joins Prestigious Fellowship Program
June 4, 2018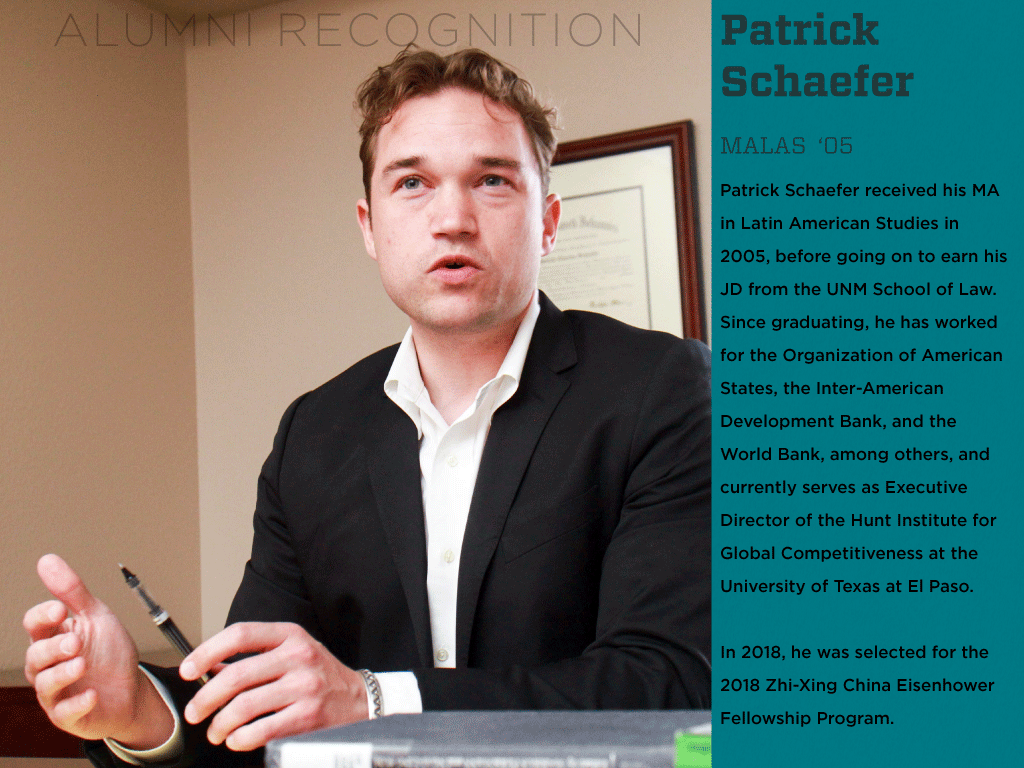 Photograph of Patrick Schaefer taken by Melody Parra, reprinted courtesy of El Paso Inc.
---
Patrick Schaefer received his MA in Latin American Studies in 2005, before going on to earn his JD from the UNM School of Law. Since graduating, he has worked for the Organization of American States, the Inter-American Development Bank, and the World Bank, among others, and currently serves as Executive Director of the Hunt Institute for Global Competitiveness at the University of Texas at El Paso.
In 2018, he was selected for the 2018 Zhi-Xing China Eisenhower Fellowship Program. Below is a reprinted article from the UNM Newsroom, which recently highlighted his acceptance into the program. 
===
Patrick Schaefer, executive director of the Hunt Institute for Global Competitiveness at the University of Texas at El Paso, has been selected for the 2018 Zhi-Xing China Eisenhower Fellowship (EF) Program.
Schaefer is one of nine individuals selected to this competitive program which allows participants to travel throughout China for four weeks in June, pursuing individual projects and engaging in transformative exchanges of knowledge and ideas with leading thinkers in their respective fields.
"I am deeply honored to have been selected for this fellowship and to travel to China to meet with the private and public sector leaders that govern and facilitate international and maritime trade," Schaefer said. "Not only is the maritime trade relationship with China of critical importance to the U.S. economy, but also to those of Texas, New Mexico and Mexico. Most of the goods that come into the ports in California pass through El Paso and Albuquerque, so understanding this trade is of great importance to the binational, Paso del Norte region, where these states and countries all come together. The value of this fellowship experience is immeasurable to our work at the Hunt Institute and the continued development of the Paso del Norte region."
Schaefer will be meeting with shipping companies, port operators, financial institutions, insurers, law firms and chambers of commerce in China to understand the growth of trade and commerce between North America and China. The fellowship experience will allow the Hunt Institute, and the regions it serves, to better understand these trade dynamics and inform local, state and national policymakers how to better leverage trade with China to bolster and grow supply chains in our regional economies.
Schaefer also credited the institutions and partners who helped make this selection possible. "My studies at St. John's College, The University of New Mexico, and the Fulbright Commission provided the groundwork for a regional and global vision of trade and law that, with present the support of the Hunt Family Foundation and the University of Texas at El Paso, helps our state and regional economies benefit from the knowledge and relationships to be developed with this fellowship," Schaefer said.
The Eisenhower Fellowship Program will begin in Beijing and the Fellows will embark on a customized program in three to four cities meeting with top leaders in their fields concluding in Shanghai to share key takeaways.
Other fellows include: Bill Davis, director, Energy Efficiency & Renewables, Ameren Missouri; Katherine Fritsch, director of marketing, The Hive; Tyrone Grandison, chief information officer, Institute for Health Metrics & Evaluation; Ryan Richardson, executive director, J.P. Morgan; Anthony Shop, co-founder and chief strategy officer, social driver; Laura Taylor-Kale, international affairs fellow, council on foreign relations; Krishna Walker, managing director, closing manager, Rabo AgriFinance; Adam Zuckerman, director, Ventures & Innovation, Discovery Communications.
"We are pleased to provide this group of exceptional American young leaders the unique opportunity to meet with influential leaders across the world to expose them to new ideas, grow professionally and enhance international understanding," General Powell, chairman of Eisenhower Fellowships, said.
Eisenhower Fellowships identifies, empowers and connects innovative leaders through a transformative fellowship experience and lifelong engagement in a global network of dynamic change agents committed to creating a world more peaceful, prosperous and just.