Rosa Vallejos Yopán of Linguistics/Spanish & Portuguese Receives Prestigious Fellowship for Documenting Endangered Languages
May 8, 2018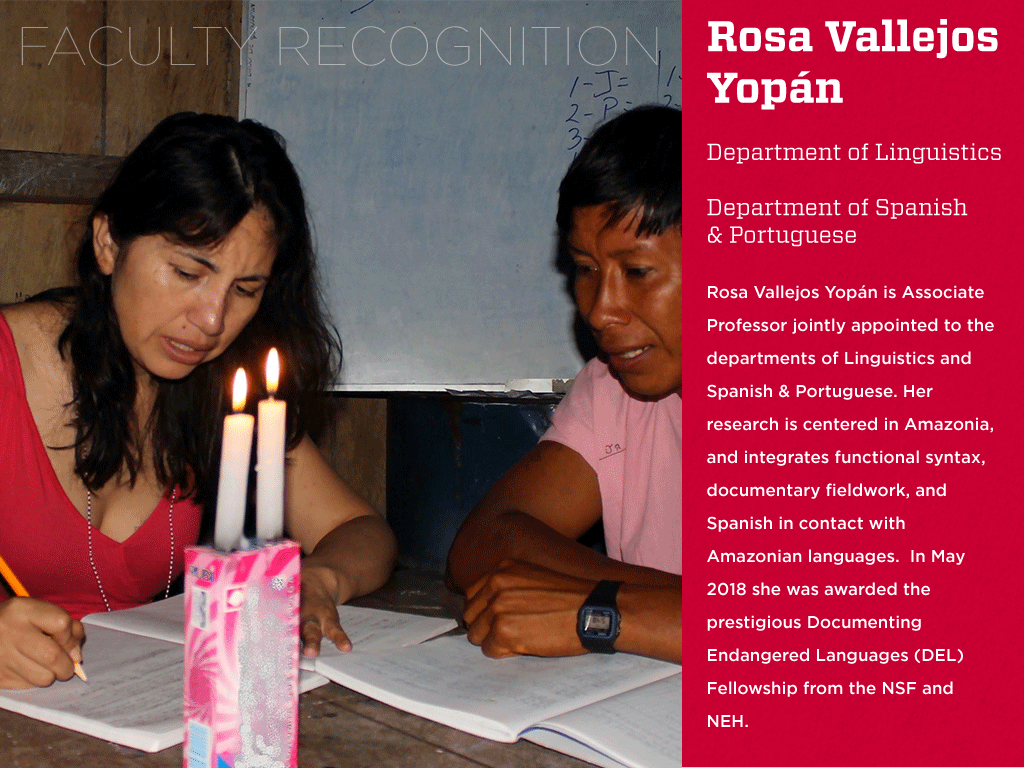 ---
Dr. Rosa Vallejos Yopán, an Associate Professor jointly appointed to the UNM departments of Linguistics and Spanish & Portuguese, and faculty affiliate of the LAII, has received the prestigious Documenting Endangered Languages (DEL) Fellowship. This award supports fieldwork and other activities relevant to recording, documenting, and archiving the endangered languages, including the preparation of lexicons, grammars, text samples, and databases.  
The DEL Fellowship is funded jointly by the National Science Foundation (NSF) and the National Endowment for the Humanities (NEH) and supports projects that develop and advance knowledge concerning endangered human languages. Made urgent by the imminent death of roughly half of the approximately 7000 currently used languages, the NSF and NEH together aim to exploit advances in information technology to build computational infrastructure for endangered language research. In particular, the DEL program supports projects that contribute to data management and archiving, and to the development of the next generation of researchers.
With the fellowship, Vallejos will be working on her project "Noun Categorization and Complex Predication in Secoya, an Amazonian Language," which entails fieldwork and research to document and analyze Secoya, an endangered language of Amazonian Peru. This is a great honor, as she is the only recipient in the State of New Mexico, and was recognized by a personal telephone call from the office of Michelle Lujan Grisham, the U.S. Representative for New Mexico's 1st Congressional district. 
Vallejos' research is centered in Amazonia, one of the most linguistically and culturally diverse areas of the world. Her areas of inquiry focus on morphosyntax and deal primarily with information structure functions and their morphosyntactic correlates in three typologically distinct languages: Kukama-Kukamiria (Tupían), Secoya (Tukanoan), and Amazonian Spanish. Information structure (IS), the packaging of information to guide the interlocutors about how (segments of) sentences relate to the overall discourse, is one of the central issues in linguistic theory and description. However, much of what we know about IS has been based on familiar Indo-European languages; usually restricted to simple, declarative clauses; and dealing mostly with elicited sentences. An adequate theorization of human language requires a broad sampling of structurally diverse languages. Amazonian languages have been identified as a priority in this respect since they are both poorly documented and highly endangered. By providing more typologically varied data and analyses, Vallejos' goal in this line of research is to contribute to advance an understanding of the role of discourse context and social dynamics on how speakers phrase their utterances, and on the varied ways that grammar can emerge from use. 
Her work is situated within the context of three broader questions: (i) How do languages vary with respect to the formal devices they use to encode IS functions? (ii) How much of sentence-level grammar is sensitive to discourse context and social variables? (iii) What are the mechanisms by which pragmatic and cognitive forces prompt the emergence of morphosyntactic variants? Findings from field research have addressed these questions in several studies, including focus constructions and subordination strategies in Kukama-Kukamiria, complex predicates in Secoya, and possessive constructions in Amazonian Spanish, among others. To learn more about her research, publications, and courses taught at UNM, please see Vallejos' faculty website.