Rebecca Schreiber of American Studies Releases Book on Migrant Lives and the Politics of Visibility
April 16, 2018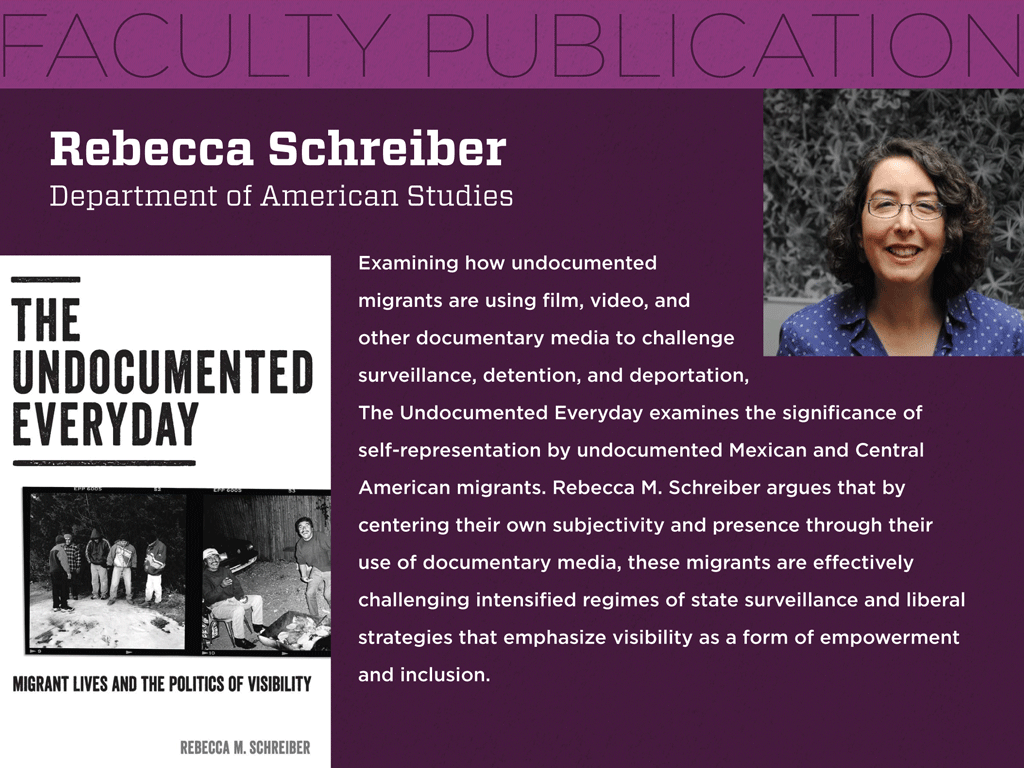 ---
Dr. Rebecca Schreiber, Associate Professor in the UNM Department of American Studies and faculty affiliate with the LAII, has released a new book, The Undocumented Everyday: Migrant Lives and the Politics of Visibility (University of Minnesota Press, 2018), which examines the significance of self-representation as a strategy in documentary photography, film, video, and audio projects involving Mexican and Central American migrants in the US and US-Mexico borderlands during the early 21st century. She argues that by centering their subjectivity and presence in their use of documentary media, these migrants have created alternatives to liberal tropes of visibility as an abstract form of empowerment and inclusion. Instead, they use documentary media to situate their own depictions of their lives, to make public political claims, and to create forms of protection.
On Thursday, May 3, 2018, at noon in the UNM Bookstore, she will discuss the book with the UNM community. For reference, see the event flyer.
Her work has appeared in a special issue of Radical History Review "Calling the Law into Question: Confronting the Illegal and Illicit in Public Arenas" (Issue 113, Spring 2012), as well as a number of edited collections, including: The Latina/o Midwest Reader, edited by Claire F. Fox, Santiago Vaquera-Vásquez and Omar Valerio-Jiménez (University of Illinois Press, 2017); Remaking Reality, edited by Sara Blair, Franny Nudelman and Joseph Entin, (University of North Carolina Press, 2018); and US-Mexico Border Spaces: Visual and Cultural Environmental Histories, edited by Katherine Morrissey and John-Michael Warner (University of Arizona Press, forthcoming). In addition, her essay "The Undocumented Everyday: Migrant Rights and Performative Strategies in the work of Alex Rivera" was recently included in a special issue of the Journal of American Studies on U.S. Immigration (April 2016).
Dr. Schreiber is also the author of Cold War Exiles in Mexico: U.S. Dissidents and the Culture of Critical Resistance (University of Minnesota Press, 2008). Selections from this book have been included in Imagining Our Americas: Towards a Transnational Frame (Duke University Press, 2007) edited by Sandhya Shukla and Heidi Tinsman, and Adventures into Mexico: American Tourism Beyond the Border (Rowman and Littlefield Press, Jaguar Series on Latin America, 2006) edited by Nicholas Bloom.