Kency Cornejo of Art and Art History Department Receives Andy Warhol Foundation Arts Writers Grant
April 16, 2018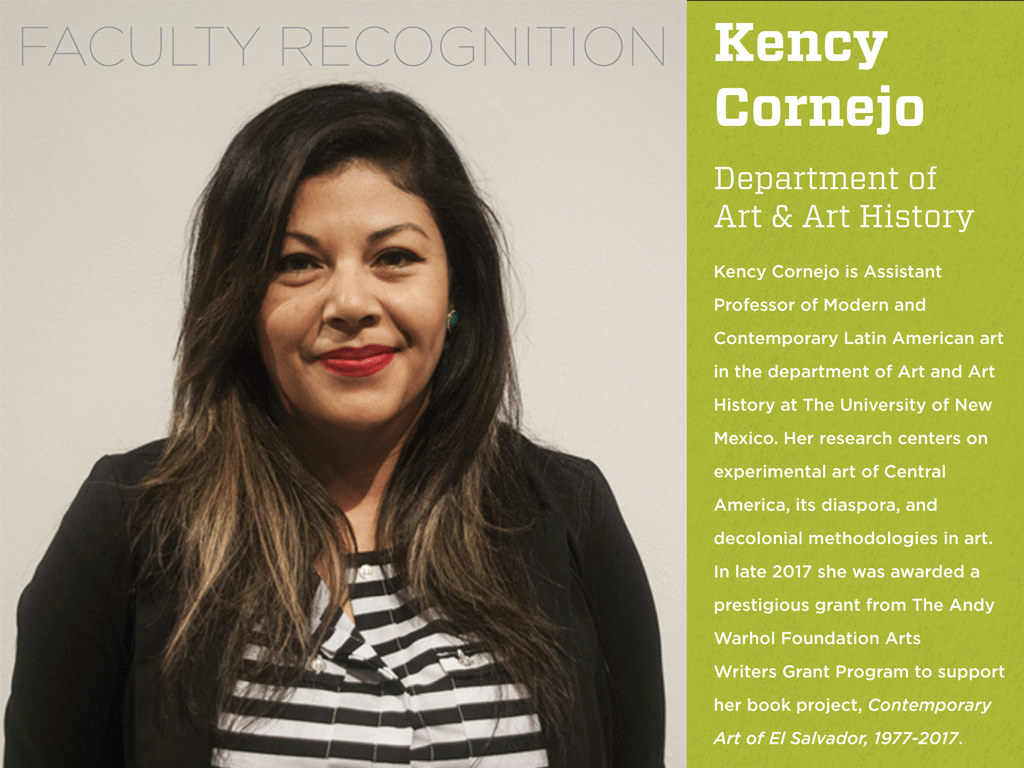 Photograph of Kency Cornejo by Eleanore Kohorn, Handwerker Gallery, Ithaca College (Fall 2015).
---
Dr. Kency Cornejo, Assistant Professor in the UNM Department of Art and Art History and faculty affiliate of the LAII, was named among the 2017 awardees of the Creative Capital | Andy Warhol Foundation Arts Writers Grant Program. The prestigious grant supports her book project, Contemporary Art of El Salvador, 1977-2017. The project draws upon her research interests, which center on experimental art of Central America, its diaspora, and decolonial methodologies in art. She explores the intersection between race, gender, and coloniality and theorizes decolonial methodologies as manifested in performance art, conceptual art, installation, and new media in the Americas.
23 writers were selected to receive a total of $760,000 for the foundation's 2017 cycle. Ranging from $15,000 to $50,000 in four categories—articles, blogs, books and short-form writing—these grants support projects addressing both general and specialized art audiences, from scholarly studies to self-published blogs. "Since 2006, the program has funded over 250 writers," said Program Director Pradeep Dalal. "This year, the 23 grantees write about an exceptional range of ideas. Some projects explore institutional issues, such as Janet Sarbanes's article on Fluxus and pedagogy, and Hsuan Hsu 's article on olfactory art and its links to environmental conditions of the gallery. Others illuminate global art practices, such as Nada Shabout 's book on notions of the decorative in Iraqi art, and Kency Cornejo 's book on contemporary art in El Salvador. And many projects examine the connections between race, gender, and aesthetics, such as Jared Sexton 's project about racial politics of monochrome painting, and Shaka McGlotten 's book on artists' responses to surveillance and big data. In addition, there are lots of exciting short-form and blog projects, including Jordan Amirkhani 's writing about the US Southeast, Raquel Gutierrez's coverage of artists dealing with violence in Los Angeles, and Emmanuel Iduma's portraits of Nigerian artists."
Cornejo's work on the Contemporary Art of El Salvador, 1977-2017 will be the first book to research and analyze the last forty years of art production from El Salvador and its US-based diaspora. The book will trace the intersection of art and politics beginning with the same year Archbishop Oscar Romero became a voice against injustices. It will argue that amidst historical legacies of violence, Salvadoran artists counter the narratives of death, poverty, and victimhood that dominate popular opinion about the smallest country in the Isthmus.
In addition to the Arts Writers Grant, Cornejo's work has also been supported by the Fulbright and Ford foundations. She has been invited to present and teach on her work throughout the US, Central America, Mexico, Brazil, and Lebanon. Kency was born in Los Angeles to Salvadoran immigrant parents and raised in Compton, California.