Photographic: The Life of Graciela Iturbide, Focus of Free Public Event with Award-Winning Author and Illustrator
April 4, 2018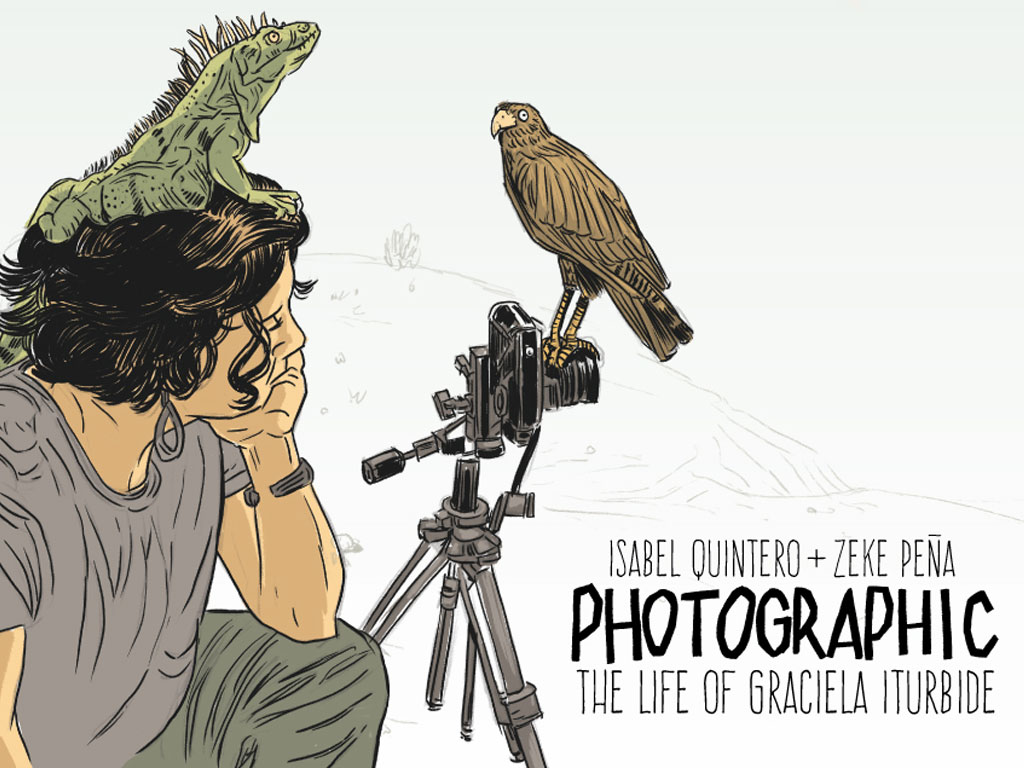 Image from Photographic reprinted with permission.
---
The LAII, Honors College Alumni Association, and National Hispanic Cultural Center announce a free public event with author Isabel Quintero and illustrator Zeke Peña as they discuss their work on Photographic: The Life of Graciela Iturbide (Getty Publications, 2018), an evocative and poetic graphic biography about renowned Mexican photographer Graciela Iturbide and her adventures around the world. Quintero and Peña will talk about collaborating, making comics, and the process of bringing Graciela's story to the page. Quintero will read and Peña will showcase original drawings from the process of creating Photographic. There will be refreshments and a book signing after the presentation.
The event will take place Tuesday, April 10, 2018, at 6:00 pm, at the UNM Hodgin Hall Alumni Center (1889 Central Ave. NE, 3rd floor Bobo Room) on the UNM main campus. For reference, see the event flyer or join the event on Facebook.
Photographic: The Life of Graciela Iturbide follows photographer Graciela Iturbide from her birth in 1942 in Mexico City, to a tragedy endured as a young mother, to her travels as a successful artist to Juchitán, Los Angeles, Frida Kahlo's home, and many more locations. Graciela's story excites young readers and budding photographers, inspiring them by her resolve, ability, and curiosity. Photographic has received much acclaim and a starred review in the School Library Journal. 
While in Albuquerque, Quintero and Peña will also visit with area schools to connect directly with K-12 educators and students. K-12 educators are particularly encouraged to attend the public event Tuesday evening, as Photographic is poised to be a rich resource for classroom use. Getty Publications has already produced a wide range of educational materials to support teaching with the book. LAII-affiliated educators may also be familiar with Quintero and Peña from their earlier collaboration on Gabi, A Girl in Pieces, the award-winning young adult novel.
ABOUT THE AUTHOR & ILLUSTRATOR
Isabel Quintero lives and writes in the Inland Empire of Southern California, where she was born and raised. She received her BA in English and MA in English composition from California State University, San Bernardino. Her first novel, Gabi, A Girl in Pieces, was one of School Library Journal's and Kirkus Reviews' Best Books of 2014, and won the American Library Association's William C. Morris Award prize for a debut young-adult novel. In 2017 her second book, Ugly Cat & Pablo was published by Scholastic.
 
Zeke Peña is a cartoonist, an illustrator, and a painter. He was born in southern New Mexico and grew up on the US–Mexico border in El Paso, Texas. He received a degree in art history from the University of Texas at Austin. His illustrations have appeared on album and book covers, in editorials and comics, and as graphics for community organizing. He has published work with Getty Publications, VICE.com, The Believer Magazine, The Nib, Cinco Puntos Press, and a forthcoming children's book written by Isabel Quintero published by Kokila, a Penguin Books imprint.