LAS Alumna Curates Timely and Socially Engaged Exhibit on Puerto Rico
February 1, 2018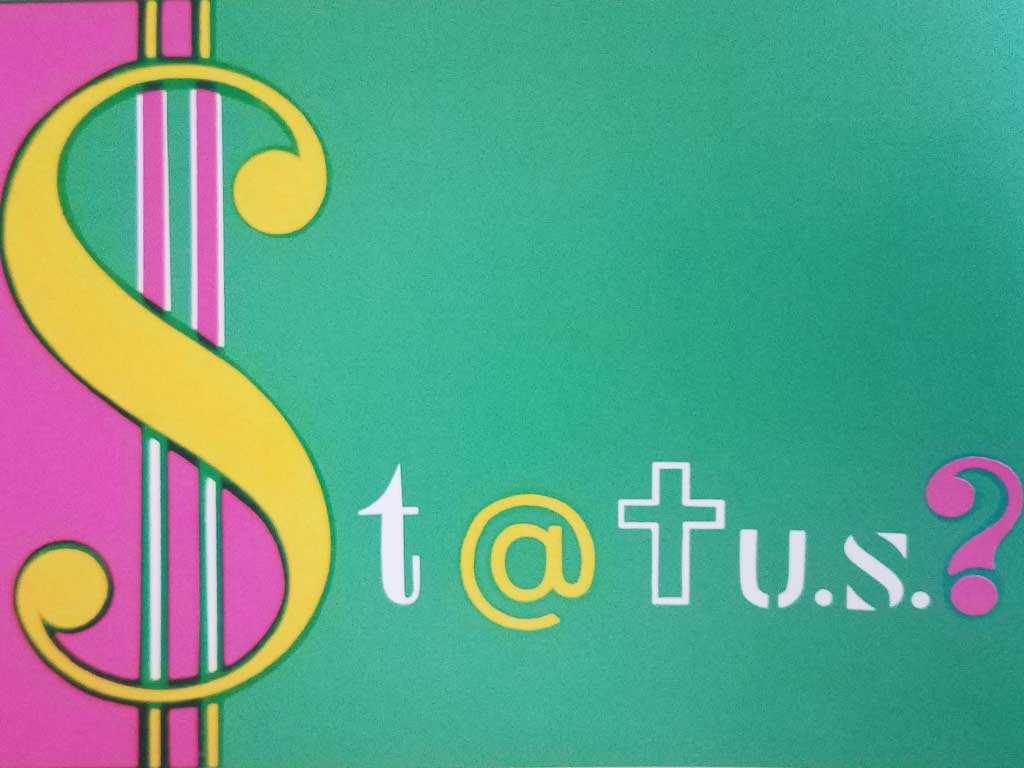 Bandera para el status (Flag for Status), 1968. Antonio Martorell.
---
A recent exhibit in San Antonio, Texas, has strong connections to The University of New Mexico. Curated by a UNM alumna and drawing on UNM library collections, $t@tU.S.? Prints from Puerto Rico to San Antonio is a timely, socially-engaged exhibition that highlights Puerto Rico and invites conversation about the island nation in the ongoing wake of Hurricane Maria.
Dr. Teresa Eckmann, Associate Professor in the Department of Art and Art History at the University of Texas San Antonio and LAS alumna, curated the exhibit and accompanying catalog. The exhibit ran from October 23 to December 17, 2017, at the Centro de Artes in San Antonio, Texas, and featured the work of Antonio Martorelli, widely regarded as one of the leading artists in Puerto Rico. As the foreward to the exhibit catalog explains, Martorell has achieved an international presence and following, and "creates and explores art through new and old mediums, through the performing arts as well as the visual arts: murals, printmaking, painting, installations, and more. Martorell not only showcases Puerto Rican culture,e ducation, and tardditions through his art, but challenges viewswers to think beyond the image, to consider complex meanings."
According to Eckmann, the exhibit "takes Martorell's visual interrogation of the island's status as as springboard to bring together a selection of works by him, his teachers, his students, and his contemporaries, aswell as San Antonio artists who use text both with aesthetic purpose and to visually communicate their engagement with "status," broadly defined here as the "current state of affairs," whether their concerns by political, cultural, personal, socioeconomic, or about human rights violations. They further consider the dynamic state of sovereignty, power, political action, heritage, democracy, cultural imperialism, and social inequality..." 
Martorell's work, Bandera para el status (Flag for Status), 1968, forms the central image for the exhibit. As Eckmann explains, "the image combines symbols of the U.S. dollar sign, the Christian cross, the 'at' sign (which at the time referred to the arroba, a measure used to weigh sugar cane, an industry important to Puerto Rican history and identity),the 'U.S.' both in reference to the United States as well as the possessive 'us,' and the interrogation mark that underscores perpetual irresolution." Martorell himself writes that "A pesar de los 49 años transcurridos y los vanos intentos de barrerlo bajo la alfombra, el 'status' sigue siendo el 'issue.' (Regardless of the 49 years that have passed and the vain attempts to sweep it under the rug, 'status' continues to be the 'issue.'"
Among the institutions which loaned materials for the exhibit was The University of New Mexico's Center for Southwest Research, which loaned images from the Sam L. Slick Collection of Latin American and Iberian Posters, a collection that contains over 5,000 posters from countries such as Cuba, El Salvador, Puerto Rico, Mexico, Panama, Nicaragua, and Spain. The posters touch on a variety of themes, ranging from elections and imperialism to human rights and revolution.
Eckmann attended the University of Massachusetts at Amherst for her BA in studio art and received her PhD from The University of New Mexico (UNM) in Latin American Studies with a concentration in post-Independence Latin American art history. She was an Assistant Curator at the National Hispanic Cultural Center and held a Post-Doctoral Fellowship at UNM'S Center for Southwest Research prior to coming to UTSA in 2008. She specializes in modern and contemporary Latin American art, with a focus on Mexico. Her book, 
Neo-Mexicanism: Mexican Figurative Painting and Patronage in the 1980s,
 was published in 2010. She has published articles and reviews in 
Anales del Instituto de Investigaciones Estéticas de la Universidad Nacional Autónoma
, and 
British Print Quarterly
, chapter essays in ¿
Neomexicanismos? Ficciones identitarias en México
 (Mexico City: Museo de Arte Moderno, 2011) and 
Latin American Posters: Public Aesthetics and Mass Politics
 (Santa Fe: Museum of New Mexico Press, 2006) as well as essays in numerous exhibition and auction catalogues.