MALAS Student Profile: Valeria Garcia
November 8, 2016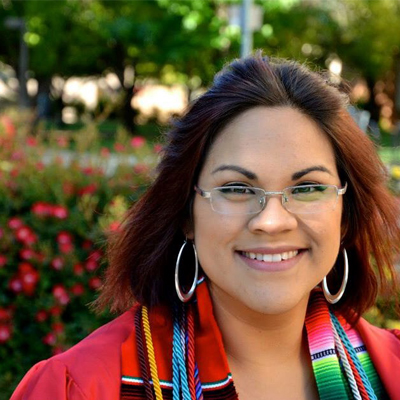 Image: Photograph reprinted with permission from Valeria Garcia.
---
Valeria Garcia
MALAS/JD '16
Human Rights; Political Science

As an undergraduate at the University of New Mexico (UNM), Valeria double majored in Spanish and Sociology with a concentration in Pre-Law. At present working concurrently toward an M.A. in Latin American Studies and a J.D. from the UNM School of Law, she chose to remain at UNM to pursue graduate studies because of the campus' diversity and its overall welcoming and accepting environment.
Valeria was born and raised in Albuquerque, and grew up surrounded by what she describes as "a beautiful mixture of cultures that combines my parents' traditions and customs from Mexico with the unique style of New Mexican practices and artistic influences." She considers Chihuahua, Mexico, where her family, culture, and traditions reside, to be her second home. Growing up in a Latin American family helped her to see the needs of Latin American immigrants here in the U.S., which led to her decision to pursue the dual MALAS/JD degree. Within her MALAS studies, she is concentrating in Human Rights and Political Science.
Her studies are complemented by extensive professional and personal experiences. She has been part of the League of United Latin American Citizens (LULAC) Young Adult Council in Albuquerque for the last five years, holding an officer position for the last two. She currently serves as the Vice President of the Mexican American Law Student Association with the Law School, and she was part of UNM's only competitive collegiate mock trial team for three years. She was also a Teaching Assistant with the Department of Spanish and Portuguese for two years and currently assists with English to Spanish translation of K-12 curriculum materials with the LAII.
After completing her degrees, she plans to practice immigration, human rights, or family law in New Mexico, and hopes to work in some capacity with/for the American Civil Liberties Union.
To read other profiles, see the LAII's graduate student directory.