EPF Media announces the U.S. release of the documentary The Children of the Children (Los niños del éxodo).
August 30, 2022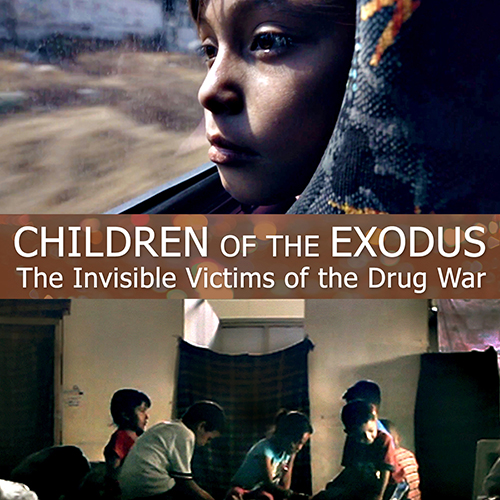 ---
Children throughout Mexico displaced by the violence in their communities reveal the impact of forced displacement and violence.  Hundreds of communities in the Tierra Caliente de Guerrero, Mexico have been displaced by organized crime that wants to control territory to traffic drugs and exploit the natural resources. Refugees in a strange city, children reveal the humanitarian crisis of forced displacement and the consequences of relocation and violence in their lives.
In conjunction with the release, The Latin American & Iberian Institute at The University of New Mexico will host a free discussion with director Wilma Gómez Luengo.  Joining the discussion will be Aída Silva Hernández (Universidad Autónoma de Baja California and El Colegio Frontera del Norte), Kimberly Gauderman (UNM History), and Rebecca Kitson (UNM Law School).  The event will be held on Thursday, September 08, 2022 at 4:00 pm (MDT).  Please note, the discussion will be in Spanish and English..
 The film will begin its virtual arthouse release on September 9, 2022.
"…a valuable and necessary documentary..." – La Jornada Del Campo
Highly Recommended – Educational Media Reviews Online
"portrays…the devastating reality of displaced people." – Animal Politico
Official Selection 2022 Latin American Studies Film Festival
Official Selection International Film Festival of Political Cinema 2021
Animal Politico wrote "The documentary presents the perspective of rural children and gives them a voice to defend their right to childhood and happiness." Punto Latino says that "What makes it unique are the children who provide the documentary with their authenticity, sincerity, and their dreams."
The film gives children shows a side of displace that is seldom seen.  Filmed over several years in the state of Guerrero, Mexico, the film also uses animation and a cinema verité approach to show the children's emotions and dreams.  The documentary gives a very personal perspective into their plight. 
DIRECTORS' STATEMENT
I was born to a middle-class leftist family in Santiago de Chile. The period during my childhood had a fervor for the pursuit of social justice. The violence that followed the coup d'état ended our hopes for the continuation of social progress.
People from opposing political parties, including friends and relatives, stigmatized and persecuted us. The political chaos divided and destroyed our society. The only way to save our lives was to leave and seek asylum in Mexico. With broken souls but pockets full of hope, we set off for Mexico leaving everything behind. At the age of 11, I began the difficult process of integrating into society. The Mexican government played an important role. Over the years, our wounds started to heal. I rediscovered myself through the beauty of the Mexican culture. Our family began the rebuilding process, creating unbreakable bonds of friendship. I acquired a passion for film and made it my career. I am extremely happy and grateful that this great nation is now my home.
Over the last decade, the violence in Mexico has escalated to unprecedented levels. This senseless war has left an immeasurable number of victims in its wake, including internally displaced people, "the forgotten."
My youth connects me in a special way to the displaced children of these communities. Seeing them and the trouble they're in makes it necessary for me to assert my voice and provide the attention that this humanitarian crisis demands.
Director Bio - Wilma Gómez Luengo
Wilma Gómez Luengo's experience began in late 1986 as a camera assistant. Since that date she have made more than 300 commercials, video clips, documentaries and seventy feature films. Thirty of them were foreign productions, usually working as the "focus puller" for the main camera. For twenty-eight years Wilma has worked with more than 80 directors of photography which include: Vittorio Storaro, Darius Kondji, Guillermo Navarro, Affonso Beato, Phil Méhiux, Henner Hofman, Emanuel Lubeski, Robert Mclachlan, Laurent Dailand, Maryse Alberti and Xavier Perez- Grovet as well other prominent cinematographers. Being part of different camera crews gave her the opportunity to acquire the skills and knowledge from other renowned operators and camera assistants that has shaped her filmmaking experience and professional development. Currently Wilma spends her time on my creative work, directing and editing documentaries, and also operating camera for feature films, television series and commercials.
Producer Bio -
 TITA lOMBARDO
Tita Lombardo was born in 1956 in Mexico City and began her career in film production in 1980. Over these forty years of work, she has directed, producer and executive produced more than 30 films. The experience has given her a deep knowledge of the Mexican film industry, ranging from the almost monopolistic phase of state investment through its current structure.
Film preview available upon request. 
Interviews with director Wilma Gómez Luengo are available upon request.
For press inquiries and screening links contact:
Larry Rattner; larry@epfmedia.coml; (323) 301-3663