MALAS Student Miguel Sabol Earns Programming Internship at Global Ties ABQ
April 29, 2022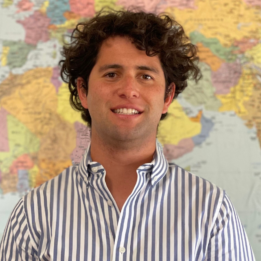 ---
This article originally appeared on Global Ties ABQ.
My name is Miguel Sabol. I am from Farmington, New Mexico, although this year marks almost five years being based out of Albuquerque, where I study at the University of New Mexico. I graduated in May 2021 with my BA in International Studies and Spanish with minors in Portuguese and Communication & Journalism, and in the fall of 2021, I began in the MA program in Latin American Studies. While I have done my fair share of bouncing around from Europe to Latin America during my studies, the things that have remained constant have been my interest in diplomacy and languages. As a former exchange student, I understand and respect the importance of international dialogue and cultural exchange within my own state, and because of that, I have been interested in the mission of non-profits like Global Ties ABQ for quite some time, and, in fact, in the months before and after the pandemic began, I served as an intern at Santa Fe Council on International Relations. I applied to the internship position at Global Ties because it just so happened that for the first time in a couple years, Global Ties was looking for interns at the same time as I was looking for positions (plus it helped that the pandemic restrictions have begun loosening up)!
How will this internship help you to accomplish your future goals? What are those goals?
The first goal that I ever really made about my future has been the same since I studied abroad in high school: work outside of the United States talking to people (while I never knew what I wanted to do as a kid, I always did like to talk). That unspecific goal has not changed, but as I also know more than I did when I was seventeen, now I just say, "I want to work in the Foreign Service."
This internship will give me the opportunity to build on my understanding of the global through its connections with my home state and my community right here in Albuquerque. This blend of international dialogue and exchange with the local community is not an experience that can be taken lightly, and I hope through working at Global Ties ABQ, I will gain a better understanding of exactly how each community interacts with the Global in the United States. And because Global Ties works with IVLP and the U.S. State Department, this internship will help me to learn more about the role of the U.S. diplomats in fostering international connections both inside and outside of the country. The skills that I am learning through this internship will help me be a better citizen diplomat and on day, hopefully, an official one as well.
How did you become interested in diplomacy and international exchange?
I became interested in diplomacy and international exchange through being an international exchange student myself. During my sophomore year of high school, I became interested in learning Spanish and seeing more of the world, so I signed up to do an academic year abroad in Spain during my junior year. I had a great, although immensely challenging, time studying in Valladolid, Spain, and it impacted me and my family so much so that since then, my family has hosted nine exchange students and four of my siblings have since studied abroad during high school. It was that spark that set me in motion to study international studies focusing on diplomacy at UNM and made me seek out more opportunities to engage in international programs and travel, such as college year abroad in Madrid, Spain, a summer conference in South Korea, and a Critical Language Scholarship (CLS) for the study of Portuguese (due to COVID, we were not able to travel to Brazil).
What do you see as the most important global issue the world faces today and how citizen diplomacy could be used to improve that issue?
I cannot say what is the most important global issue that the world faces, but an issue that comes readily to mind is that of inundation. In this day and age of social media, news apps, and non-stop coverage of everything, we are all inundated with information about events happening across the world, good and bad (ever increasingly bad, it sometimes seems). While in one day we may hear about human trafficking in China, a big soccer match in Senegal, riots in Peru, and the war in Ukraine, there is little we can do to understand all of these headlines. Citizen diplomacy, in my mind, is the fostering of dialogue between regular citizens of countries that helps each of us to better understand the world around us. Through the friends that we meet from around the world, each of us citizen diplomats in our own right, we create connections that enable us to see through some of the information that inundates us and allows us to understand some of the global, regional, and even local issues that are really at stake across the world. In my opinion, this is the greatest part of citizen diplomacy, that all it requires is friendship and all it needs to create is a more understanding world.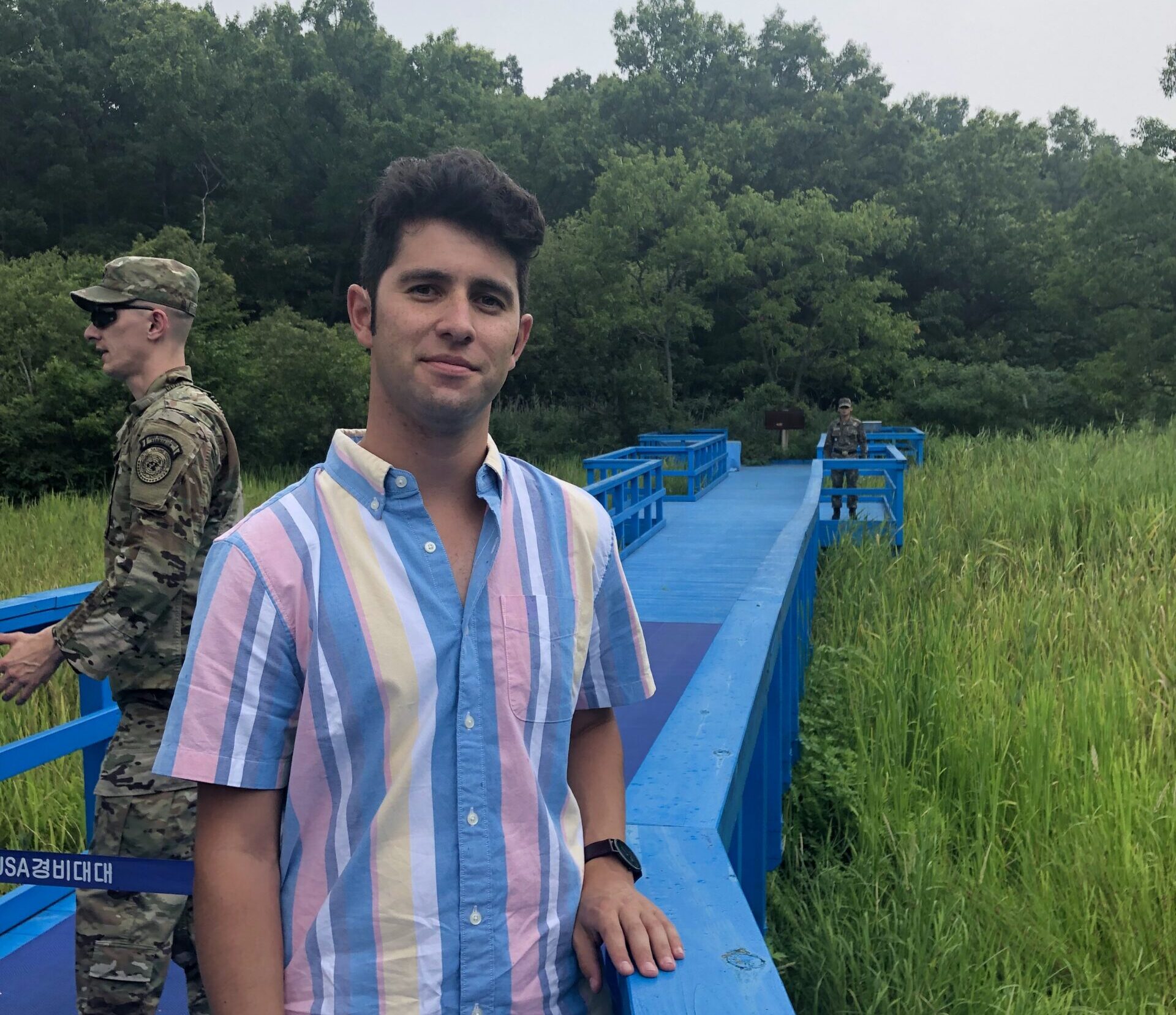 (Above, Miguel at North Korea/South Korea border (DMZ))
Why do you recommend be involved with Global Ties ABQ?
I recommend getting involved with Global Ties ABQ because it is a place that creates space for international dialogue and facilitates connections between the global and the local. Being involved in this type of dialogue and these connections helps each of us to foster a better understanding of the world around us and makes all of us more well-rounded citizen diplomats. By being involved in Global Ties ABQ, you can be a part of these connections between Albuquerque and the world, and on the way, you will get to learn a lot and meet many new friends. What more could you ask for!