Faculty Spotlight: Dr.Luis Herrán Ávila
July 29, 2020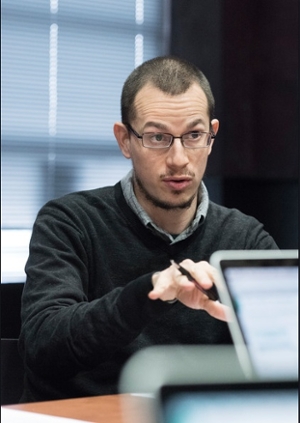 ---
Dr. Luis Herrán Ávila is an Assistant Professor in the Department of History at UNM. Dr. Herrán Ávila is a historian of the Cold War in Latin America, with an emphasis on conservative, anticommunist, and extreme right movements.
What region of Latin America do you study? Why?
In the past, I've conducted cross-regional comparative research pertaining to conservatism and right wing movements during the Cold War in Argentina, Colombia, and Mexico. My current project has brought me to concentrate on Mexico. However, the stories I'm uncovering and threading together also involve a whole gamut of Caribbean, Central and South American actors, including, for instance, the Cuban diaspora. In other words, I currently study the history of the Mexican Right, but I do it by way of understanding the country in connection with broader regional and global circuits of right wing political activism. I've chosen this lens because for too long we've studied the history of Mexico mostly based on its peculiarities and stark differences with respect to Latin America. It's a way of breaking with Mexican exceptionalism (which is a thing), and of "Latin Americanizing" or even "globalizing" Mexico.
What has been your path to becoming a professor?
It's been a long path and I think I owe much of it to the example and inspiration of the educators in my immediate and extended family. During my time at the National University in Mexico I was also encouraged by a handful of great mentors, who pushed me to make the most out my "licenciatura" in Latin American Studies, and to see the value of an interdisciplinary training. I've always wanted to be like those great professors. Of course, the first class I taught as a graduate student was a little bit of a disaster. It took a while to get comfortable with myself and my expertise, garner the tools to communicate more effectively in my non-native tongue, and to start getting a sense of what teaching and learning actually look like in a classroom. 
What motivates you in your current work/research
My main source of motivation is the inexhaustible complexity of the Latin American region -  of its history, its troubles, challenges, and achievements. More specifically, my recent and current work has been motivated by the need to understand the origins of the current wave of authoritarian and intolerant regimes in the region, and the growing presence and "normalization" of intolerance and prejudice. As a historian, I could simply say these are not new phenomena. But I do want to understand its origins and the historical conditions that give traction to these ideas and figure out ways to counter them.
Please describe a Latin American role model that inspires you. 
I'm going to go back to my old-school Latin Americanist roots, and say José Martí. He was an intellectual and political force to be reckoned with, a mixture of the romantic idealist but also a political activist and an organizer. His understanding of Cuban reality and history as part of the broader struggles of "Nuestra América," and his relentless call to abandon imitation of foreign models and seek locally based knowledge stands strong to this day. He also had a very complicated relationship with the United States, where he lived and worked for many years, denouncing the rise of imperialism, while making acute observations about US society and leaving an opening for understanding between North and South.
What advice do you have for young scholars in the field of Latin America
This is the toughest one! I'd say be open to be constantly challenged by the complexity and diversity of the region, as there is no single model, theory, or body of ideas to grasp what García Márquez called its "outsized reality." To study Latin America, to be a Latin Americanist, is necessarily to study fragments, that we then try to piece together as communities of knowledge to see if there is a common pattern. So be ready to be disproven or to "stand corrected" by the "exceptions," the odd cases, the things that don't fit the theories and models that we too often put in pedestals.