A Bridge Between New Mexico and Latin America
August 1, 2017 - Rachel Whitt (UNM Newsroom)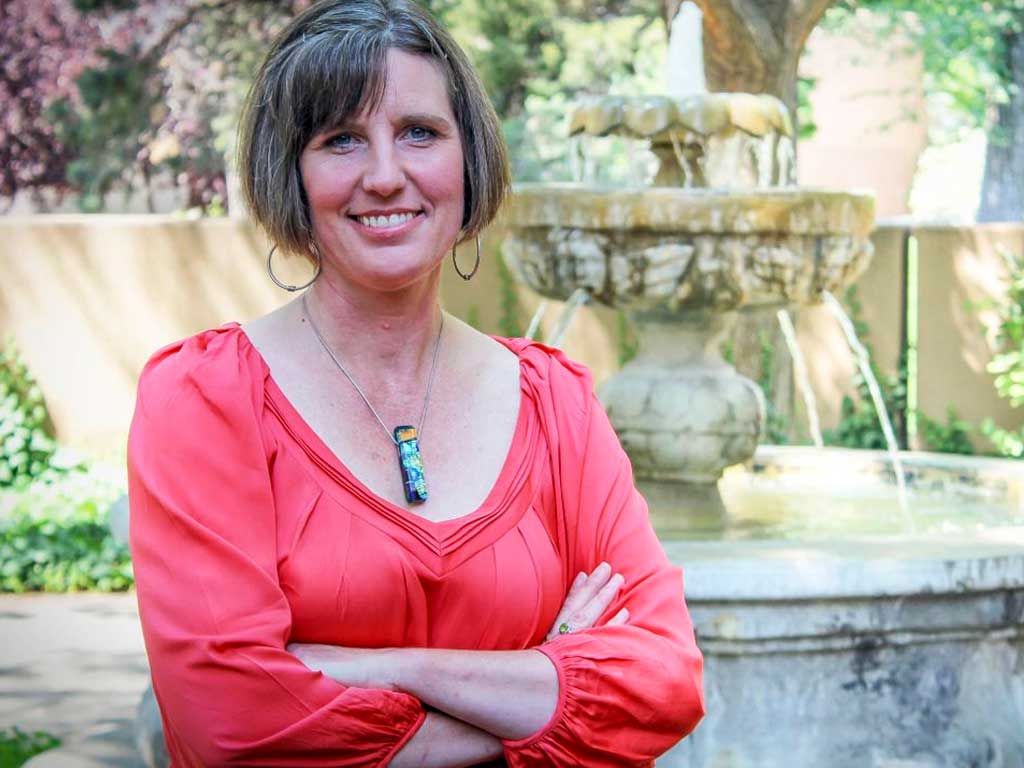 ---
A University of New Mexico faculty member is leading an international organization aimed at connecting higher education institutions to Latin American studies resources.
Suzanne Schadl is the newest president of the Seminar on the Acquisition of Latin American Library Materials (SALALM), an international organization charged with helping libraries develop their collections of Latin American research and teaching tools. The UNM associate professor and curator of the University's Latin American Collections is now in the midst of planning the 63rd SALALM Conference, in Mexico City next July. It is co-hosted by El Colegio de México.
"It's an organization of librarians, archivists and information professionals including book vendors, who are interested in supplying information from Latin America," Schadl explained. "Our primary focus is on getting perspectives from Latin America into the academic and popular mix at our institutions."
The working theme of SALALM 63 is "Sites, Texts, Voices and Performances: critical reflections on transmitting knowledge". Although still in the planning phases, the theme is aimed at exploring contested sites and sources that have a controversial history associated with them. Simultaneously, the conference will give librarians, archivists, vendors, curators, scholars and creatives time to think critically about how their curation of material can depict those sites.
According to Schadl, such community involvement and assessment is an excellent way to expand and grow understanding of texts and voices from other regions of the world; and ultimately to enrich foreign language and international studies programs both domestically and abroad.
"In New Mexico, we have our own history rooted in Spanish America, and our neighbors have a history that's rooted in Spanish America," said Schadl. "And we could be a bridge between those neighbors, and our friends here in the United States."
The University of New Mexico is one of only 16 National Resource Centers for Latin American Studies in the United States, meaning it receives federal funding to support programs that establish, strengthen and operate language learning centers for Spanish and Portuguese, among others.
"UNM was coming of age around the same time the U.S. government became interested in several of our Latin American neighbors, so, the University strategically supported programs that encouraged people to learn the languages and cultures of those neighbors," Schadl said.
Schadl used her own strategic planning to hopefully draw even more attendees to the 2018 SALALM conference – holding it at the same time and location as the Alliance of Digital Humanities Organizations Conference. By pairing the two, conference-goers can be fiscally responsible while still broadening their academic and professional circles. Connecting institutions and drawing in a larger international audience are two of Schadl's main priorities while serving as president of SALALM. She also aims to continue broadening UNM's Latin American Studies Collection, because she believes providing students with diverse and interesting native language material is essential to preserving and passing down the culture.
"A lot of my library colleagues are trying to find the most important history scholars and obtain their material," Schadl said. "But area-studies are a little different. If you're studying Latin America, you don't just want to look at the most important Latin American history scholars, you also want to be studying the voices that are coming out of Latin America as well. The past and the present voices need to talk to each other in order to create a full picture."
Schadl has worked as the curator of the UNM Latin American Collection since 2009. Prior to coming to UNM, she worked as an assistant professor of history at Roanoke College; a visiting instructor of Latin American history at the University of Texas in Austin; and Director of the Gerald and Betty Ford Library at the Bosque School.