Multifaceted Exhibit Celebrates Cervantes and His Legacy
November 21, 2016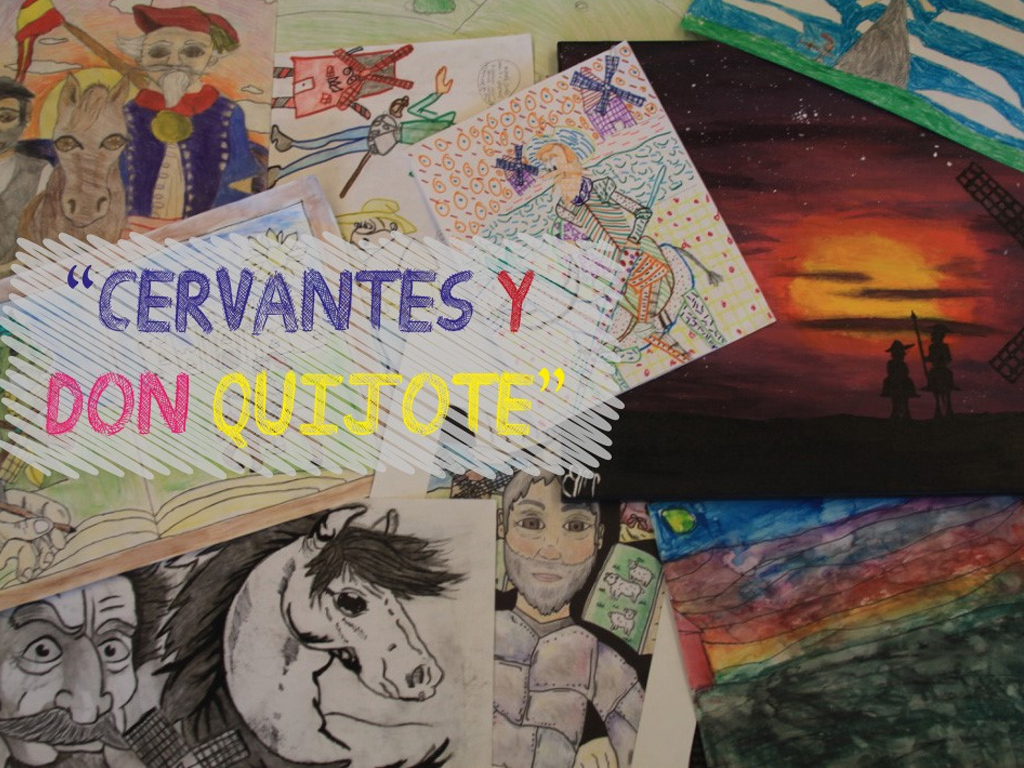 Image: Collage of student artwork from the exhibit.
---
2016 marks four centuries after the death of Miguel de Cervantes', one of the most well-known writers in history. His legacy lives on throughout the literary world, but he is remembered most notably for writing the unforgettable story of Don Quixote de la Mancha.
Instituto Cervantes Albuquerque, the National Hispanic Cultural Center, Spanish Resource Center of Albuquerque, and the Education Office - Embassy of Spain, will host three exhibitions as well as a drawing contest aimed at New Mexico schools -- all of which celebrate Cervantes and his legacy. The LAII is pleased to support the exhibitions alongside these community partners. The exhibits will feature works from the projects Back of Barataria and Quijotes de Celuloide alongside artwork created by New Mexico students, and will run from November 20, 2016 through March 31, 2017, at the National Hispanic Cultural Center (Pete V. Domenici Education Center).
What would happen if Sancho Panza were to travel to the U.S. in 2016? This question is at the heart of Back of Barataria, a photography project that documents areas throughout the southern United States where Spanish-speaking communities have streets and cities named from Miguel de Cervantes' book
Alongside photography, cinema has an important role within the exhibition, as Quijotes de Celuloide examines Cervantes' work by featuring different Don Quijote movie posters from throughout history, including from movies such as Don Kihot by G. W. Pabst (1933) or El caballero Don Quijote by Manuel Gutiérrez Aragón (2002).
Back to Barataria and Quijotes de Celuloide will be accompanied by Don Quixote Quotes, one of the few exhibitions in the United States that commemorate this milestone in the history of world literature. The exhibition is composed of 25 signs with notorious quotes extracted from Don Quixote de la Mancha
Finally, the exhibition will include the artwork of students in New Mexico schools - gathered and curated from a drawing contest open to all K-12 classrooms. The Don Quixote de la Manche and Miguel de Cervantes Drawing Contest encourages teachers to introduce Cervantes in the classroom and to share the cultural significance of Don Quixote through original drawings that depict something related to either Don Quixote or Cervantes.
The drawing contest award ceremony will take place on December 3rd at 2:00 PM and the winners will be announced at 3:00 PM. Special prizes up to $1,100 will be given to winning students and schools.
Miguel de Cervantes was born in Alcalá de Henares, Madrid, in 1547. He became a soldier in 1570 and was badly wounded in the Battle of Lepanto. Captured by the Turks in 1575, Cervantes spent five years in jail. He was freed in 1580 and returned home. The writer finally achieved literary success in his later years, publishing the first part of Don Quixote de la Mancha in 1605. He died on April 22, 1616, one day prior to Shakespeare death.
For more information, contact Instituto Cervantes at 505-724-4777 or prensa.albuquerque[at]cervantes.es.