SiennaDellepiane
MALAS | 2019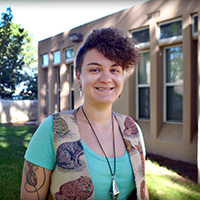 ---
Sienna Dellepiane comes to the MALAS program after having earned a BA in Sociology, with a double minor in Women/Gender Studies and Community Leadership, from the University of Colorado in 2014.
As she enters graduate school at UNM, Sienna is excited to challenge herself in an academic setting again after a few years off, and is already learning many new things, Quechua being one of them. Sienna's father immigrated to the US from Lima and she is also a citizen of Peru, so part of why she chose this program is very personal. She is excited to learn about more about the history of Peru, which she was never taught in school previously. Although Sienna grew up in the United States, she often traveled to Peru to visit family and she attended some schooling in Lima as a child. As an adult, she expanded her knowledge of Latin America when she participated in a summer program that took her and a small cohort to El Paso to study immigration, and then to Nicaragua to study Free Trade Agreements and how US policies impact Nicaragua. She and her little sister were also able to return to Peru as adults for the first time this summer and explore the country beyond Lima.
In addition to these personal connections and academic experiences, Sienna has indirect professional ties to the region, having spent the past 6 years working with Latinx youth who were largely of Mexican background. She plans to continue working with similar groups of youth and feels that it is important to learn more about the history and culture of Mexico. After several years of searching, she found the MALAS program and it was exactly what she had been looking for!
At UNM, Sienna is involved with SOLAS and hopes to engage with other social justice organizations on campus. Also a graduate assistant at the LAII, she supports the institute's interdisciplinary faculty committees who provide input on LAII programming and resources. Upon graduation, Sienna hopes to continue working to empower Latinx youth through the building of long-term relationships and community organizing that puts the youth in the forefront of creating change, both within themselves as well as in their community. Outside of academics, her interests include caring for the excessive amounts of animals and plants on her homestead in the East Mountains, finding shiny rocks, self-sustainability, gardening, cooking, curanderismo, brujeria, stained glass, painting, cartoons, and comic books.