SantiagoCarrasco García
MALAS | 2019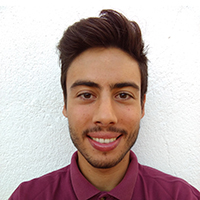 ---
Santiago Carrasco García comes to the MALAS degree from Spain, having earned a BA in Journalism from the Universidad Complutense de Madrid in 2014 and an MA in Spanish from the Universidad Autónoma de Madrid in 2016.
He decided to pursue his second master's degree at UNM because he was impressed by the opportunities presented by the MALAS program, having gotten to know the program in depth beforehand and having met some of its many faculty and students.
As he enters the first year of the program, Santiago is excited about the broad spectrum of possibilities he gets to experience here, not just from the academic/professional point of view but also from a personal perspective. So far UNM has shown him a great understanding of the Latin American world along with a supporting, caring attitude towards this strong and valuable community. This year he intends to settle in the academic life again and be open to whatever opportunities may come, embracing the MALAS program as one of his most life-changing experiences abroad. During his bachelor´s degree, Santiago got to live a year abroad in Tampere, Finland, where the university level is highly lauded within Finnish society. There he had a totally different experience that inevitably changed him for better as a person. He believes that the values one learns when studying or living abroad are worth any effort; they make you a better person, which is what Santiago works every day to achieve.
In terms of career aspirations, Santiago remains open minded. He never knew exactly what he wanted to be when he grew up. When he was asked the question he would always answer something different: a veterinarian, a travel photographer, an airline pilot, a linguist... Somehow he knew he liked talking and communicating - so that is what it took him to Journalism. Santiago loves the connection created with the audience and expressing himself through writing and voice. He also understood afterwards that journalism would be incomplete without entering the world of languages and teaching, so he was prompted to pursue an MA in Spain focused on language teaching. Both experiences provided a solid base and led him to pursue his current degree path: an MA in Latin American Studies. Currently, fields such as anthropology, intercultural communication, development and so on, have begun to unfold in front of him in beautiful, challenging and enriching ways.
While at UNM, Santiago works as a Spanish teaching assistant and as a graduate assistant supporting the University Libraries' Latin American collections. Upon graduation, he would like to work for an international organization within Latin America, most likely in issues related to development. He plans to use his language skills (one of his concentrations is Brazilian Studies, and he intends to learn a fourth language) as well as his communication skills to build a bridge in which knowledge flows more smoothly and reciprocally between the so-called Western society and developing countries of this area. Outside of class, Santiago enjoys cinema and nature.