HayleyPedrick
MALAS/MCRP | 2019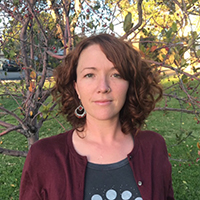 ---
Job : Teacher, Menaul School
Location : Albuquerque, New Mexico

Hayley Pedrick comes to the MALAS program after having earned a BA in English Literature from the University of Colorado in 2007.
She chose UNM because of the outstanding faculty involved in food studies, Spanish and Portuguese film and literature, and human rights' advocacy. Hayley's decision to pursue a degree in Latin American Studies stems from a number of personal and professional experiences she's had over the years. In 2008, she lived and worked as an English instructor in both Oaxaca and Mexico City. After an unexpected opportunity to study Portuguese at UNM in 2011, she spent 5 months in Brazil on organic farms in 2012. She paired her love of food and teaching when she found work in Guatemala as a vegetarian chef for the entire year of 2013.
 With concentrations in Brazilian Studies and Geography, Hayley is excited that this year brings with it the opportunity to build a foundation in methodologies used in geography and learn how to design field research projects. She is starting on the path towards incorporating the humanities (literature, narratives, film) in ways she has never imagined! She is also looking forward to getting to know other students in the LAS and Spanish and Portuguese department, and to the improvement of her Portuguese speaking and writing skills along the way.
Her concentrations intersect with a research focus on the future of Colombia, Mexico and Brazil's land and water resources, as well as food practices and expressive arts. She is a student of capoeira, as well, and is grateful to have studied under world-renowned Mestre Acordeon, originally from Bahia.
 At UNM, Hayley is a member of SOLAS and Brazil Club, and teaches Spanish through the Spanish and Portuguese department. She's excited to try out field work as a means to inform the public, contribute to scholarship and/or assist NGOs in research and development. She loves teaching and most certainly will continue teaching in varied settings, with roots in language acquisition, healthy food preparation and cultural exchange. Outside of her time at UNM, Hayley enjoys a good dérive, creative navigation of space.