Classroom Book Sets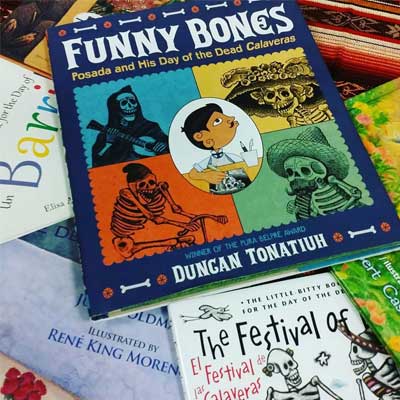 The LAII is pleased to partner with the Spanish Resource Center of Albuquerque, Instituto Cervantes of Albuquerque, and the National Hispanic Cultural Center to offer classroom sets of exemplary Latinx literature for children and young adults. The sets vary in size and composition; are available at no cost; and have flexible lending periods. The books are housed in the Spanish Resource Center, located within the National Hispanic Cultural Center's Domenici Education building at 1701 4th St. SW.
To request a set, please contact Mayte Villa of the Spanish Resource Center by phone at (505) 724-4743 or via email at spanish.resource@state.nm
Many of the books have accompanying educator's guide, as indicated by the asterisk (*). We hope to expand this resource and welcome your suggestions for future titles. 
Novels
*The Surrender Tree / El árbol de la rendición by Margarita Engle (bilingual edition, 30 copies)
*The Circuit by Francisco Jiménez (30 copies)
*Cajas de cartón by Francisco Jiménez (30 copies)
*Before we were Free by Julia Alvarez (30 copies)
*Antes de ser libres by Julia Alvarez (30 copies)
*The Color of My Words by Lynn Joseph (30 copies)
*El color de mis palabras by Lynn Joseph (30 copies)
*Yaqui Delgado Wants to Kick Your Ass by Meg Medina (30 copies)
The Epic Fail of Arturo Zamora by Pablo Cartaya (30 copies)
The Poet X by Elizabeth Acevedo  (30 copies)
I Am Not Your Perfect Mexican Daughter by Erika L. Sanchez (15 copies)
Wild Beauty by Anna-Maria McLemore (15 copies)
The First Rule of Punk by Celia C. Perez (15 copies)
Juliet Takes a Breath by Gabby Rivera (15 copies)
Step Up to the Plate, Maria Singh by Uma Krishnaswami  (15 copies)
The Disturbed Girl's Dictionary by NoNieqa Ramos (15 copies)

Forest World

 by Margarita Engle (30 copies)

The Wild Book by Margarita Engle (30 copies)
Sylvia and Aki by Winifired Conkling (30 copies)
Enchanted Air: Two Cultures, Two Wings

 by Margarita Engle (30 copies)
Children's Books
*Pancho Rabbit and the Coyote by Duncan Tonatiuh (30 copies)
Book Fiesta! Celebrate Children's Book Day 

by Pat Mora (30 copies)

Sabores de America by Ana Maria Pavez and Constanza Hojas (30 copies)
*Separate is Never Equal by Duncan Tonatiuh (30 copies)
*Thematic Children's Books: Frida Kahlo
Thematic Children's Books: Latinx Leaders and Biogra

phies

Thematic Children's Books: Latinx Winter Celebrations

*Thematic Children's Books: Día de los Muertos