Latin American Studies at UNM
---
Top 10
Latin American library collections nationwide
100+
affiliated faculty at UNM
200+
LAS courses each year
75%
of LAS students receive funding
An area studies degree can take your international knowledge to the next level. Start the process now and learn how a degree in Latin American Studies can provide the skills you need to make a difference.
There's always something happening at the LAII and in our community. Stay informed by subscribing to our listservs and connecting on social media. Connect now.
Our alumni know that a degree in Latin American Studies can change students' lives. Now's the chance to be a part of that transformation. Give now to support student success.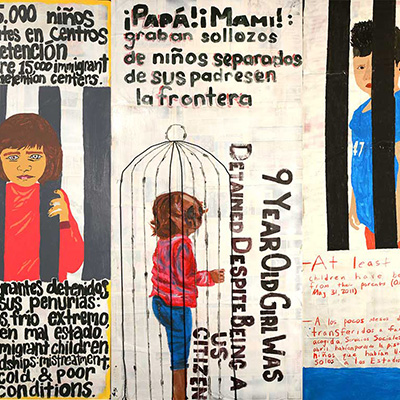 Monday, May 20, 2019 | 12:00 pm - 12:00 pm
Summer 2019 brings the return of Border Doors: Niños en jaulas (Kids in Cages) to The University of New Mexico. Created by students at Sandi Prep, this art exhibit features full-size doors covered in multimedia collages, all intended to raise awareness and educate the public about how US government policies continue to sanction human rights violations against migrants coming to the United States.