Latin American Studies at UNM
---
Top 10
Latin American library collections nationwide
100+
affiliated faculty at UNM
200+
LAS courses each year
75%
of LAS students receive funding
An area studies degree can take your international knowledge to the next level. Start the process now and learn how a degree in Latin American Studies can provide the skills you need to make a difference.
There's always something happening at the LAII and in our community. Stay informed by subscribing to our listservs and connecting on social media. Connect now.
Our alumni know that a degree in Latin American Studies can change students' lives. Now's the chance to be a part of that transformation. Give now to support student success.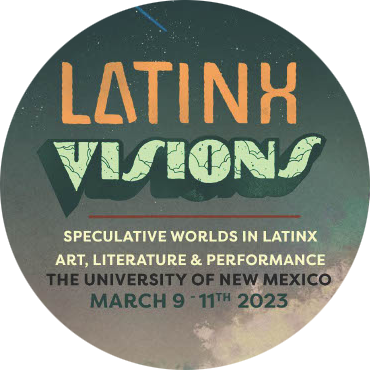 Thursday, March 09, 2023 | 08:30 am
Latinx artists, writers, and performers are envisioning speculative worlds, including dystopias, utopias, apocalyptic lands, fantastic futures, and horrifying worlds, at a greater rate than ever before. This creative renaissance raises the following questions: Why are Latinx creators drawn to the speculative genres of science fiction, fantasy, and horror, and why now? What is aesthetically exceptional about these new Latinx speculative worlds? With these questions in mind, the Latinx Visions project is gathering, for the first time, some of the most prominent scholars working on this topic for a conference at the University of New Mexico on March 9-11, 2023. The members of the project team, Matthew David Goodwin, Cathryn Merla-Watson, and Santiago Vaquera-Vásquez, have each been guiding the development of this field for over a decade, and are uniquely prepared to bring together the various threads of scholarship from across the Humanities. The conference will be free and open to the public, both virtual and in person. Approximately seventy professors will give presentations at the conference, and we expect that there will be at least a hundred students attending over the course of the conference. Following the conference, the project team will arrange the conference papers into a volume of revised and peer-reviewed chapters. The edited volume, Latinx Visions, is slated to be published in September of 2024 through the Ohio State University Press for their book series "New Suns: Race, Gender, and Sexuality." In addition to the publication of an edited volume, the conference will result in the creation of a multimedia archive accessible to academics and the larger public that will be housed at the website www.latinxarchive.com. In sum, the Latinx Visions project will forge a vital arena for understanding Latinx speculative worlds, significantly advancing the state of this rapidly growing field.