Kalyn Finnell
MALAS/MCRP
Urbanism and Community Development; Indigenous Studies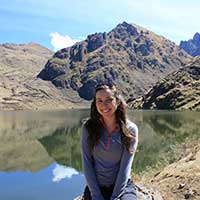 ---
Kalyn Finnell received her BA in Spanish from the University of Oklahoma in Norman with minors in Latin American Studies (LAS) and English. She became interested in Latin America through learning Spanish, and especially during her year studying abroad at la Pontificia Universidad Católica in Lima, Peru. "It definitely influenced my choice in pursuing LAS because while there, apart from living in Lima and travelling around Peru on weekends, I took a number of classes dealing with LAS such as Amazonian Ethnography, Peruvian and Latin American Literature, and Urban Anthropology, where we looked very closely at the city of Lima."
After graduating, Kalyn taught English at public elementary and high schools in southern Spain. "Spain is a country filled with varying cultures and identities, and I loved being a part of it. Living close to northern Africa, it was the first time I was exposed to living in a borderland culture, and it sparked my interest in immigration and borderland communities." Kalyn chose to pursue her MALAS degree at the University of New Mexico because of the multidisciplinary nature of the program. She considers one of the most rewarding parts of the program thus far to be the opportunities it provides to reach out to the community through such events as the Sin Fronteras film festival and community planning opportunities. As a graduate assistant at the Latin American & Iberian Institute, Kalyn attends different lectures to assist with video, audio, and photography, as well as working in K-12 outreach and writing for the Vamos a Leer blog.
After completing her degree, she hopes to work in planning in either migrant urban, indigenous communities of Latin America, or in immigrant communities of the United States, particularly those coming from indigenous communities.