Looking for History
Margaret Randall
---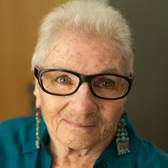 Thursday, August 25, 2022 | 05:30 pm
Waters Room, Center for Southwest Research, Zimmerman Library
About:
Margaret Randall is a poet, essayist, oral historian, translator, photographer and social activist. Her life and consequently her writings focus on themes of women's political activism, social revolution, art, feminism, cross-cultural relationships, and lesbianism. Most of Randall's writings focus on Latin America and the United States. The years she spent in Mexico, Cuba, and Nicaragua figure prominently in her works. Randall uses mediums of photography, oral history, poetry, essay, translation, and narrative to bring her issues to light.
_____________________________

UNM Parking in Cornell and Yale Structures available daily from - 3 PM to Midnight for $5.00 flat rate

Covid Masks Recommended for indoors
Notes:
This event is free and open to the public.