Our Place
In the late 1970's Linda Smith, a UNM special education and art education graduate student decided to conduct a global research project on children's artworks. Her interest was in studying children's developmental stages and approaches to painting and drawing their environments. It was a huge undertaking, but Smith contacted embassies worldwide to request children's artworks. Smith shares that the requests were met with much acceptance and enthusiasm. She received over a hundred artworks from 20 countries Through presentations, Smith shared the collection with her fellow art education students and faculty.
The collection of children's artworks was stored in Smith's garage for several years. In the summer of 2022, Smith contacted Dr. Gigi Schroeder Yu, UNM art education professor, to inquire about sharing the collection with the program. Dr. Yu and UNM art education students Marley Hidalgo and Marissa Mascarenas began meeting to study the collection with Emmy Tither and graduate students Madeline Griffin and Whitney Wagner from UNM Latin American and Iberian Institute's (LAII) K-12 outreach program.
Together, they decided to create an exhibition featuring children's paintings and drawings from Latin American and Central American countries: Honduras, Brazil, and Argentina. The team was also curious how children from our local New Mexico contexts would perceive and visually interpret the concept of place. Elementary art teachers were contacted to inquire about their interest in submitting children's artwork. The art teachers involved in the exhibition represent the schools that UNM art education works with for practicum and student teaching placements.
The LAII provided a resource room, featuring prints from the Sam L. Slick Collection of Latin American and Iberian Posters, children's literature guides, and historical context on Latin America in the 1970s. A resource guide was also provided and can be viewed below.
On the opening night of the exhibit, children's author Alexandra Diaz spoke about her writing practice during an evening event for local educators. Alexandra Diaz is the award-winning children's book author of The Only Road and its sequel, The Crossroads, and also Santiago's Road Home. Along with her mother, she translated the three book into Spanish, El único destino, La encrucijada, and La travesía de Santiago. The Only Road is the recipient of multiple awards, including the Pura Belpré Honor and Américas Award, among others. Her other books include Good Girls Don't Lie (a New Mexico-Arizona Book Award finalist and International Latino Book Award 2nd place winner) and Of All the Stupid Things, (a New Mexico-Arizona Book Award finalist and ALA Rainbow List book), both for young adults.
In the field of art education, we consider exhibitions as opportunities to interact with artworks beyond passively looking. While observing this exhibit, we encourage you to actively engage with viewing the children's paintings and drawings and the text. This exhibit takes us on a journey that weaves together time and place. Dr. Yu and UNM art education students enrolled in Art for Elementary Art Teaching organized the children's paintings and drawings in topics rather than by place or chronologically. After studying the children's artworks, the students created guiding questions. The questions are meant to provoke the viewer to take a deeper look at individual artworks and the collection for each section.
Additionally, New Mexico art teachers' artmaking prompts were found throughout the exhibit. The labels share additional information regarding the New Mexico children's descriptions of their artwork. Take time to study the children's observations and visual representations, which reflect how they perceive their contexts, what is important to them, and even what other worlds may look like. Allowing time to take in the historical and contemporary leads to a deeper understanding of the timelessness of children's interests.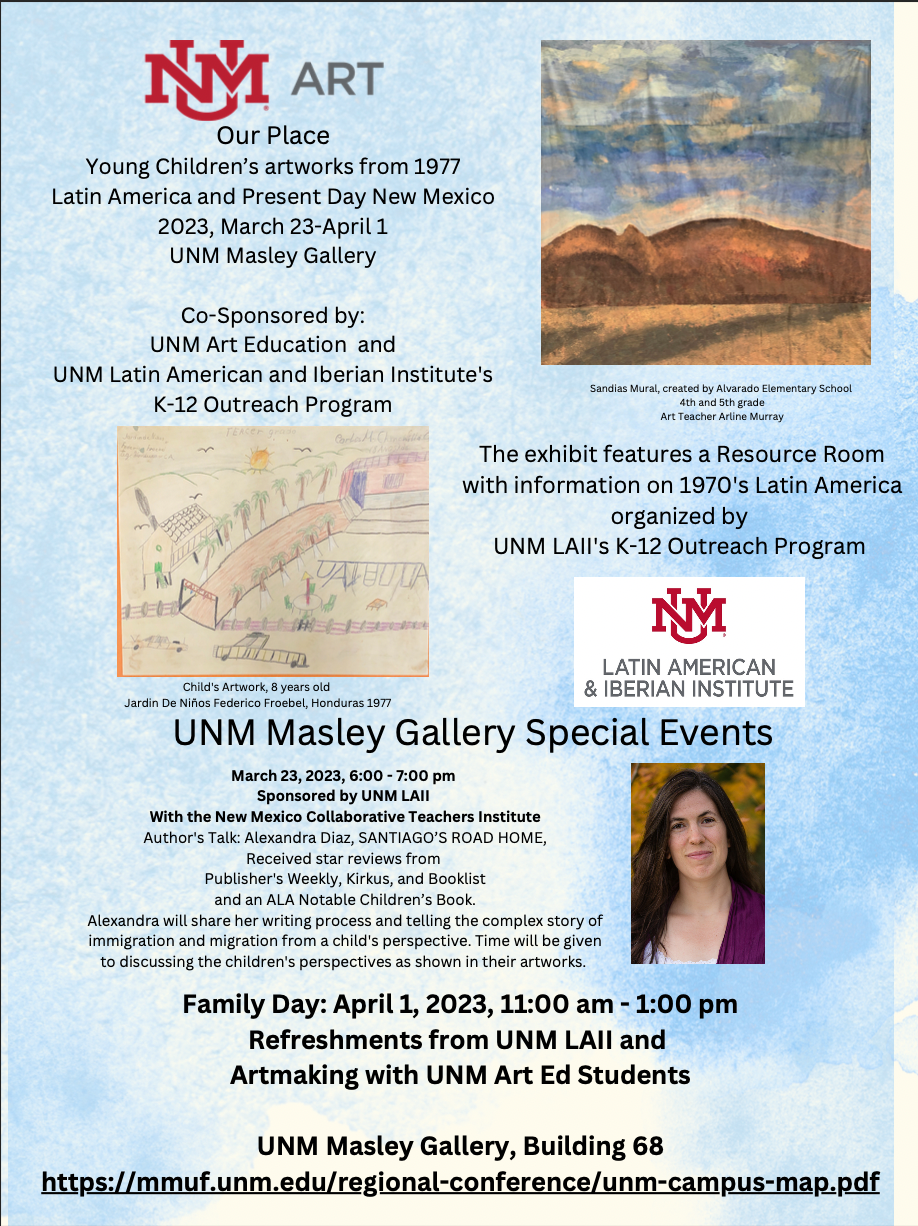 UNM Art Education Students: Graciela Beaugard, Ren Bunzel, Miranda Chun, Angel Estrada, Marley Hidalgo, Kameron Jim, Alyssa Johnson, Nancy Matthews, Angel Moss, Sarah Raupagh, Julia Reeder, Sierra Trujillo, Domiana Vigil, Katrina Whitezell, Tatyana Williamson, Jessica Smith
Participating New Mexico Art Teachers and Schools:
Arline Murray (Alvarado Elementary); Chelsea Dappen (Collett Elementary School); Nancy O'Neil (Inez Elementary School); Amarilis Matteo (Mountain Mahogany Community School); Jessica Estevan (Montezuma Elementary School); Valeria Rios (Cien Aguas International School); Kelly Luzzi (La Mesa Elementary School); Marissa Mascarenas – UNM student teacher (Chelwood Elementary School); Maria Aragon (Sweeney Elementary)