Vamos a Leer Book Group: Because of the Sun
---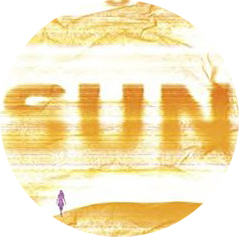 Monday, October 14, 2019 | 06:00 pm
Latin American and Iberian Institute
801 Yale Blvd NE (campus building #165)
About:
Join the UNM Latin American & Iberian Institute for our casual Vamos a Leer book group, a space dedicated to teachers discussing authentic and engaging Latinx literature for elementary, middle and high school classrooms. We meet each month at Red Door Brewing at their new downtown location at 509 Central Ave., and welcome your participation whether you've read the whole book or just a few pages.
Our October title is the young adult novel, Because of the Sun by Jenny Torres Sanchez. You can find a copy at several local library branches.
PLEASE RSVP SO WE NOW YOU'RE JOINING US!
Dani learned to tolerate her existence in suburban Florida with her brash and seemingly unloving mother by embracing the philosophy Why care? It will only hurt. So when her mother is killed in a sudden and violent manner, Dani goes into an even deeper protection mode, total numbness. It's the only way she can go on. But when Dani chooses The Stranger by Albert Camus as summer reading for school, it feels like fate. The main character's alienation after his mother's death mirrors her own. Dani's life is thrown into further turmoil when she is sent to New Mexico to live with an aunt she never knew she had. The awkwardness between them is palpable. To escape, Dani takes long walks in the merciless heat. One day, she meets Paulo, who understands how much Dani is hurting. Although she is hesitant at first, a mutual trust and affection develops between them. And as she and her aunt begin to connect, Dani learns about her mother's past. Forgiving isn't easy, but maybe it's the only way to move forward.
Notes:
This event is free and open to the public. For more information about our book group and related activities, please see our complementary blog, Vamos a Leer: Teaching Latin America through Literacy.