Teaching About the Bracero Program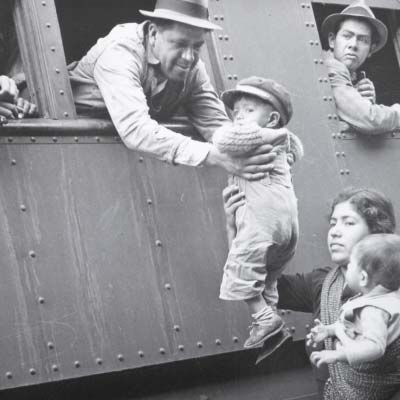 This guide was inspired by Braceros, a photography exhibit on view January-June 2019 in the National Hispanic and Cultural Center (NHCC) History and Literary Arts building. It was compiled by the NHCC and Latin American and Iberian Institute (LAII) at The University of New Mexico as part of a collaborative effort to reach middle and high school educators interested in bringing this topic into the classroom. The cover image is taken from the exhibit, and is reprinted here with permission.
As John Mraz, Braceros exhibit curator, notes, "Today, as waves of migration arrive on the coasts and borders of the world, it seems appropriate to reflect on the Mexican braceros who were recruited to fill the boots of those United States soldiers who had gone to fight fascism in the Second World War. Under the 'Bracero Program, 1942-1968,' Mexicans were legally contracted to work in the United States of Americas as temporary unskilled laborers." By embedding this history into the official curriculum, educators can acknowledge a formative period in US history and encourage learning about its far-reaching impact. Among other questions, students might be encouraged to inquire: How did the arrival of Braceros lead to the formation of thriving Mexican American communities in the US? Was the Bracero experience one of exploitation or opportunity, or both? What impact did the Bracero Program have on future immigration and labor policy? Who are the modern-day "Braceros"?
The LAII and NHCC compiled this guide so as to provide resources that can either prompt or deepen these conversations in the classroom. We used broad parameters when considering which materials to include, acknowledging that this is not a simple topic to teach. Consequently, the compiled resources address myriad points related to the Bracero Program, including the intertwined history and relationship of the United States and Mexico, the context and ongoing conditions of immigrants and particularly migrant farmworkers, and the need for social justice and social engagement around questions of labor rights and human rights.
We include brief background information on the exhibit, annotated lesson plans, and a bibliography of children's and young adult literature about these intersecting topics. Teachers are encouraged to select the pieces most suited to their classrooms. 
Download the complete guide.