Classroom Book Sets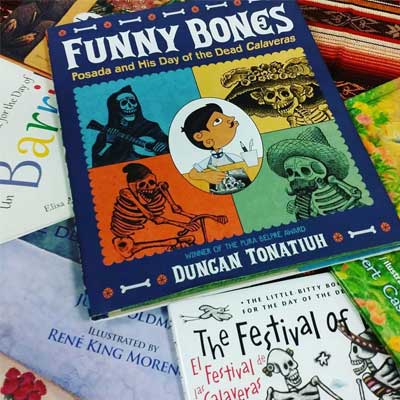 Beginning in Fall 2016, the LAII partnered with the Spanish Resource Center of Albuquerque, Instituto Cervantes of Albuquerque, and the National Hispanic Cultural Center to offer selective, complementary classroom sets of books that were featured in Vamos a Leer or that were recipients of the Américas Award. All classroom sets consist of 30 copies and may be loaned out for up to one month at a time.
Below are the sets we currently have. We hope to expand this resource and welcome your suggestions for future titles. These sets are available at no charge and may be requested by contacting laiioutreach@unm.edu. Each book has an accompanying educator's guide.
Also, coming soon are thematic collections of children's picture books! We're currently working on sets related to immigration, Latinx leaders and social engagement, Día de los Muertos, poetry, winter celebrations, and Frida Kahlo - to name a few. Stay tuned for more information.
The Surrender Tree / El árbol de la rendición by Margarita Engle (bilingual edition)
The Circuit by Francisco Jiménez (English edition)
Cajas de cartón by Francisco Jiménez (Spanish edition)
Pancho Rabbit and the Coyote by Duncan Tonatiuh (in English; no Spanish edition available)
Before we were Free by Julia Alvarez (English edition)
Antes de ser libres by Julia Alvarez (Spanish edition)
The Color of My Words by Lynn Joseph (English edition)
El color de mis palabras by Lynn Joseph (Spanish edition)
Yaqui Delgado Wants to Kick Your Ass by Meg Medina (in English; no Spanish edition available)