Lisette Anabel Camarillo
Double Major
LAS; Biology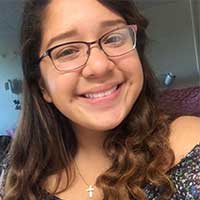 ---
Degree: Double major in Biology and Latin American Studies: double minor in Chemistry and Psychology
Expected Graduation: Spring 2020
What drew you to the Latin American Studies program?
I am interested in Latin America because I am Latina. I was born in the US but my family is from Spain and Mexico. I have always been fascinated with history and learning what it was like before our time in the United States. And now to be given the chance to learn and study my homeland's history and culture is what draws me to Latin American Studies. In this degree I have the opportunity to study history from a different perspective, and connect with individuals living outside of the United States.
What has been your most rewarding experience while in the program?
The most rewarding aspect of the Latin American Studies major is my study of history and the new perspective it has given me. Every Latin American Studies class I attend I learn something new, and the professors who teach the classes are also another reward because of their excitement about the classes and the topics they are teaching. I also enjoy thinking about my ancestors and their experiences while learning history which makes it even more interesting.
Where do you see yourself five years from now?
In five years, I hope to see myself just graduated from UNM and starting my first year in Medical School, while still keeping my end goal of becoming a surgeon in mind. I also plan to eventually go back California and give back to my community, which has given me so much and helped me become the person I am today!