Jacob Sandler
MALAS
Anthropology; Indigenous Studies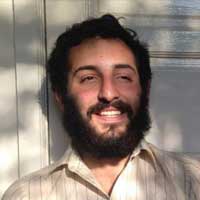 ---
Jake Sandler was attracted to the MALAS program at UNM because of the program's flexibility, allowing him to pursue his interest in indigenous studies via non-traditional channels of study. His concentrations in the program include Anthropology and Communication. He became interested in Latin America as a region of study in 2006, when he accompanied a group of artists and human rights workers to the city of Oaxaca, when a massive student protest broke out. Since then, he has focused on the work of artist/activists in indigenous communities from across the Oaxacan state.
Jake received his undergraduate degree from Allegheny College (Pennsylvania) with majors in Creative Writing and Spanish Literature. During that time, he spent two summers on field research grants in Oaxaca de Juarez and Juchitán de Zaragoza, Mexico. Following graduation in 2012, he lived in Juchitán and Mexico City, where he worked on translations of Isthmus Zapotec poet, Dalthon Pineda, and participated in the branding of a boutique Oaxacan mezcal product for export to the New York market. Upon returning to the New York area, he served as their regional sales and marketing representative. A collection of his translations are pending publication in the literary journal, Molossus, and bottles of Mezcal Real Minero can be found in various restaurants and wine stores in Manhattan and Brooklyn.
As a graduate assistant, Jake has become involved in blogging, promotional writing and teacher's resource guides for the LAII's K-12 outreach programs, the Latin America Data Base news outlet, and community events such as Albuquerque's Latino film festival, Cine Magnífico. He will continue to expand upon his experience with Oaxacan cultural products by researching the ways in which the state participates in the branding and marketing of cultural products destined for foreign markets. Jake plans to use this research and experience in the professional world as a writer/reporter on culture, arts, tourism and politics throughout Mexico and Central America. Thus far, his most rewarding experience at UNM has been the opportunity to learn the K'iche Maya language, an important indigenous language in his region of study, which he plans to continue in the field school, held each summer in Guatemala. In five years, Jake hopes to be writing and if he could talk to anyone in the world (dead or alive) it would be the editor of the first Bible, to ask for tips on promoting book sales. When he was ten, he wanted to be a carpenter, which has translated into his love for the construction of national myths.