Shirley Cushing Flint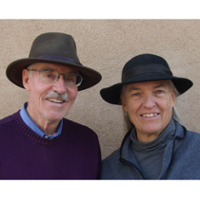 Shirley Cushing-Flint and Richard Flint have been leading the field in groundbreaking documentary research on the Coronado expedition for the last 25 years. They both hold Master's degrees from New Mexico Highlands University in Las Vegas, New Mexico. Richard also earned a PhD in Latin American and Western United States History from the University of New Mexico. The Flints have conducted extensive research in archives in Mexico, Spain, and the United States, and have participated in archaeological investigations in New Mexico, Texas, and Arizona related to the Coronado entrada. They directed two major conferences on the Coronado expedition, one in 1992 and the most recent in 2000. Those conferences resulted in the location and identification of the Jimmy Owens site near Lubbock, Texas, a 1541 campsite of the Coronado expedition.
As Research Associates with the LAII, the Flints' are engaged in their latest research project, "Members of the Coronado Expedition, a Search for Documents," and are exploring archives in Spain, Mexico, Guatemala, Ecuador, and Peru, seeking previously unstudied documents relating to the Coronado expedition. The project's overarching goal is to expand knowledge of individual members of the expedition and the Native Americans it encountered, as well as of the events, motivation, and outcomes of the expedition and Spain's century of conquest and reconnaissance in general. As part of this project, they are under contract with UNM Press for a book, A Most Splendid Company: The Coronado Expedition in Global Perspective¸ and with the UNM Center for Southwest Research for a database of documentary information.
Image: Reprinted from the Sandoval Signpost.
---