Vanessa Fonseca
Greenleaf Visiting Library Scholar
Assistant Professor
Arizona State University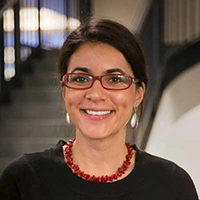 Vanessa Fonseca received a Greenleaf Visiting Library Scholar award in Fall 2015 to support research on Following the Manito Trail: Los Nuevomexicanos en Guayomín (Wyoming). At the time of the award, Fonseca was an assistant professor of Latina/o Studies and English at the University of Wyoming, where her teaching focuses on Chican/o and Indigenous literature and cultural production, with a focus in the Southwest United States.
Fonseca's research focuses on contemporary manifestations of colonial relationships in Chicano literary and cultural production, looking specifically at the effects of multiple layers of colonial relationships from the Spanish colonial period to the present. One of her recent projects in 2015 was a co-edited book project examining the international presence of Chicano literature. As of Summer 2017, she is the co-director of the "Following the Manito Trail Project." 
---
Title of Research :
Following the Manito Trail: Los Nuevomexicanos en Guayomín (Wyoming)
While at UNM, she addressed her research on "Following the Manito Trail." This is an interdisciplinary ethnographic project that documents Hispanic New Mexican (Manito) migration from New Mexico to different parts of the United States during the last century. Looking at Interstates I-25 and I-80 as major migration corridors for Manito families, Fonseca focuses on the driving factors for Manito migration to Wyoming and the exploration of notions of querencia, or how one establishes a sense of self and community through place.