Raquél Rivera
Greenleaf Visiting Library Scholar
Affiliated Scholar
Hunter College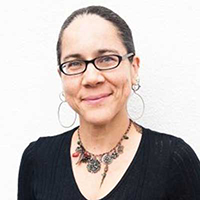 Raquél Rivera received a Greenleaf Visiting Library Award in Fall 2011 to support research on J.D. Robb's Imperative to Collect: Towards an Archival Ethnography of the Robb Archive of Southwest Music. At the time, she was an Affiliated Scholar of the Center for Puerto Rican Studies at Hunter College in New York.
Co-editor of the anthology Reggaeton (Duke University Press 2009), Rivera is also author of New York Ricans from the Hip Hop Zone (Palgrave Macmillan 2003) and numerous articles on Latino popular and folk cultures. Her areas of scholarly interest also include race and ethnicity, nation and diaspora, and the intersections between Latino and Africana studies.
Photo: Young Women United.
---

Title of Research : J.D. Robb's Imperative to Collect: Towards an Archival Ethnography of the Robb Archive of Southwest Music