Jonathan Steuck
Greenleaf Visiting Library Scholar
PhD Candidate
Pennsylvania State University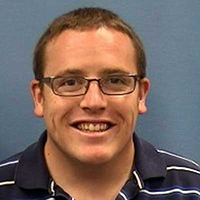 Jonathan Steuck received a Greenleaf Visiting Library Scholar award in Spring 2018 to support research on "Ready for What Language Comes Next: Factors Spanish-English Bilinguals in New Mexico May Utilize to Anticipate Code-Switches in Discourse." At the time of the award, he was a doctoral candidate for a dual degree in Hispanic Linguistics and Language Science at Pennsylvania State University.
Steuck's areas of research and teaching include New Mexico Spanish-English bilingualism, code-switching and prosody, and speakers' dialect in phonetic convergence or divergence of intonation. 
---
Title of Research :
Ready for what language comes next: Factors Spanish-English bilinguals in New Mexico may utilize to anticipate code-switches in discourse
While at UNM, Steuck will draw upon library collections to complement his doctoral research, which investigates the prosodic-syntactic, discourse-functional, and phonetic properties of spontaneous multi-word, intra-sentential (unambiguous) code-switches in a bilingual community where frequent code-switching is a discourse mode. The NMCOSS collection at UNM Libraries will allow the opportunity to analyze the spontaneous speech data produced by the older speakers in NMCOSS and will facilitate a richer linguistic understanding of both more and less bilingual Spanish speakers in New Mexico and southern Colorado. The understanding of these properties will enable the direct comparison of less bilingual speakers in NMCOSS with the more bilingual speakers in NMSEB. Overall, this will facilitate an analysis of whether bilingual speech has properties that are distinct from less bilingual speech that in turn enable bilingual speakers to anticipate code-switching in discourse.