Javier Lorenzo
Greenleaf Visiting Library Scholar
Master Instructor of Music
Ministry of Education, Buenos Aires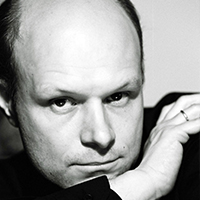 Javier Lorenzo received a Greenleaf Visiting Library Scholar Award in Spring 2017 to support research on "Transcription and Edition of Musical Scores of the Manuel Areu Collection." At the time of the award, he was a Master Instructor of Music with the Ministry of Education in Buenos Aires, Argentina.
Lorenzo has been a teacher, conductor, and choirmaster since 1984. He received his master's degree in orchestral conducting from the University of New Mexico in 2002 and music degree from the National Conservatory of Music in Buenos Aires in 1981. As the National Hispanic Cultural Center's musical director, Javier Lorenzo premiered works by Latin American composers in the Fiesta de las Américas, a series of classical, folk, and popular music from Latin America.
---
Title of Research :
Transcription and Edition of Musical Scores of the Manuel Areu Collection
While at UNM, he addressed The Manuel Areu Project, a collaborative initiative that undertakes to begin the dissemination of the musical and historical research of the Manuel Areu Collection at The University of New Mexico, a project overseen by the UNM Honors Research Institute. Inspired by the political and social events of the places where he lived and worked, Manuel Areu composed zarzuelas and dramas. The musical works composed by him are transcribed to be performed, and the manuscripts about his life and work are researched and analyzed within the cultural, political, and social contexts in which they were created and performed. The analysis brings to the picture important aspects of the development of performing arts in crucial historical moments such as the Cuban revolutionary war of independence; the Mexican revolution; the struggles of mining workers in Northern Mexico and Arizona; the beginning of cinema in Hollywood; the musical and historical connections of New Orleans and Cuba; the insights of history of entertainment in the US-Mexico borderlands; and also the beginning of the conflicted relations between these two countries.
Save