Esther Brown
Greenleaf Visiting Library Scholar
Associate Professor
University of Colorado-Boulder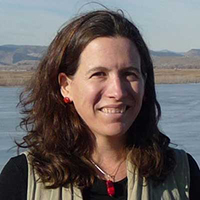 Esther Brown received a Greenleaf Visiting Library Scholar award in Spring 2018 to support research on "A Language Contact Perspective on New Mexican Phonology." At the time of the award, she is an Associate Professor of Spanish and Portuguese at the University of Colorado Boulder.
Brown's teaching and research focuses on usage-based aproaches to bilingualism, Spanish language variation, Spanish of New Mexico and southern Colorado, Hispanic linguistics, sociolinguistics, and language contact phenomena.
---
Title of Research :
A Language Contact Perspective on New Mexican Phonology
While at UNM, Brown will draw upon library collections to focus on the pronunciation variants (phonological variation) of the Spanish of New Mexico using the New Mexico-Colorado Survey of Spanish [NMCOSS (Bills & Vigil 2008)]. She is currently researching linguistic outcomes of prolonged language contact to explore whether linguistic interconnectivity between multiple languages surfaces in naturally produced (nonexperimentally elicited) data that does not evidence predominantly code-switched discourse. Specifically, she would like to conduct a large-scale quantitative analysis of all syllable-initial /s/ realizations in New Mexican Spanish in word-initial (cebada, zacate, sartén) and word-medial (principal, cazar, sartén) positions.